By Nancy Allen
nallen@dailystandard.com
A new boer meat goat show for junior fair participants will make its debut tonight at the Mercer County Fair.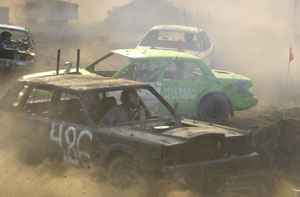 The fair has had dairy goat classes for years, but this will be the first time youngsters will be able to show meat goats. There will be six classes, with eight junior fair members signed up to show 25 meat goats at the 6 p.m. show.
Jenni Huser, 15, of rural Celina, said she would rather raise meat goats over dairy goats, because dairy goats are too much work.
"You have to get up and milk 'em every day, but the boers can live until the next day," Huser said grinning.
She showed dairy goats for the first time last year. Her brothers, Bobby and Kaleb Huser, also will take part in the new meat goat show tonight. Show rules for dairy goats require their horns be cut or burned off, while meat goats can be shown with horns. The judges look at the depth of the animal's body, length of loin and width of its chest in meat goats, while they look for good feet structure and udder structure in dairy goats.
One downside to meat goats is that they can be more skittish in the show ring, Huser said, because they are not used to being handled like dairy goats during milking.
Huser said she enjoys the competitive nature of showmanship competitions, where the handler, not the animal, is judged. She also is just plain fond of goats, especially the babies.
Several does on the family's farm had babies between February and April and one straggler just gave birth earlier this month, she said, adding the breeding ram must have "missed her" earlier.
Huser's stepfather, Tom Mann, was active in getting the boer meat goat show added to the junior fair lineup this year. He and other local farmers hope to tap into a growing market fueled by a demand for goat meat from immigrants of the Middle East, Latin America, Africa and Asia, who have come to Ohio.
The average weight of a mature dairy goat is between 100 and 125 pounds, while the average weight of a boer meat goat runs between 200 and 225 pounds, Mann said.
Mann said the group did not have much time to promote the new show this year, but plans to during this year's fair and next year. He is hopeful that it will be held again next year.
Phone: (419)586-2371, Fax: (419)586-6271
All content copyright 2005
The Standard Printing Company
P.O. Box 140, Celina, OH 45822