By Margie Wuebker
mwuebker@dailystandard.com
ST. MARYS -- Painted faces. Colorful wigs. Zany costumes. Bittersweet memories.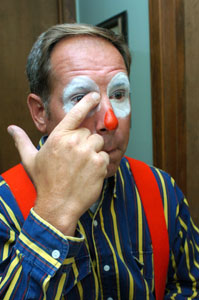 The Veterans of Foreign Wars Post 9289 Clown Unit will serve as honorary grand marshals for the St. Marys Summerfest parade. The event, which takes place at 4:30 p.m. Saturday, marks the end of an era.
The unit, once the only VFW organization of its kind in the world, decided to disband in June, according to president Terry "T-ball" Humphries. It seems fitting the final appearance will come before the hometown crowd.
"Being a clown has been part of my life for more than 30 years," says Ken "Bozo" Grimm. "We put out calls for volunteers but nobody responded. Some of us have reached the burnout stage and it's time to bow out gracefully."
Six VFW members -- Bob Tobens, Doc Jones, Charles Monroe, Pete Wissman, Charles Folk and Homer Maxson -- stepped up to the plate in 1970. To counter the Russian observance of May Day celebrated there with uniformed soldiers parading through the streets, the VFW proclaimed the first Saturday of May as Loyalty Day.
The local post decided to sponsor a parade and commander Jim Lynch requested volunteers to serve as clowns. The unit was established the following year and had more than 30 engagements. Mary Scheer and Marge Whitling even established a junior unit for the children and grandchildren of post members. It disbanded as the youngsters grew up.
Grimm, who joined the ranks in 1972, said each newcomer established an identity and put together a costume, none of which could be copied by others.
"Put on a clown face and the world changes," says Humphries who joined in 1992. "You're glowing from the time you put it on until the time you wipe it off. The pay is lousy (nothing) but the satisfaction in bringing joy to others is priceless."
The clowns certainly learned the adage practice makes perfect applies not only to makeup but to balloon sculptures they create for youngsters. The professional makeup they now use does not taste as good as the original butter-based paint. However, it does not melt in hot weather. Bob Engle gave balloon-blowing and balloon-twisting instructions. The balloons become dogs, cats and even giraffes with a few sleight-of-hand motions.
Seated around a table at the post on West Spring Street, they talk about memorable events from the past as well as tomorrow's parade,
Grimm decided years ago to ride a minibike in area parades. Unfortunately, he failed to practice beforehand with oversized clown shoes.
"Those darn shoes got caught in the wheels and I flew over the handlebars as pretty as you please," he says wincing at the memory of landing unceremoniously on his rump. "People cheered and gave me a standing ovation thinking it was all part of the act."
Not all the high jinks take place on the parade route, according to Toby "Topper" Rion. Unit members fresh from a Fort Loramie parade spotted an unsuspecting fellow walking slowly along a country road. .
Their pickup truck pulled over and costumed characters climbed from the cab and bed to inquire about directions. Somebody produced a Tennessee map and carefully spread it over the hood.
"We studied the map for 10 minutes or so before the guy realized it wasn't local," Rion says. "That's probably the first and last time he ever tried to help a bunch of clowns."
Jim "Charlie Chaplain" Hughes recalls other appearances when tears glistened in the eyes of performers and the only smiles were the red ones painted on their faces.
"I happened to be playing Mickey Mouse at Children's Hospital in Columbus," he explains. "A doctor grabbed my arm and pulled me into a private room where visitors were not permitted. The little boy in the bed sat up and threw his arms around me saying 'I love you Mickey' and then slumped weakly to the pillow."
Fellow clowns waived animatedly from the doorway and then turned away before the ill youngster could see wet tears rolling down their painted faces.
Grimm adds officials at the Columbus hospital told him the St. Marys clowns finished second only to the Ohio State University Marching Band as favorite visitors.
Other visits have taken the clowns to veterans hospitals and nursing homes. They once encountered a Mercer County Home resident who remained downhearted despite their best efforts to bring forth a smile.
The man explained his radio could not be fixed. Maxson, who portrayed "Pete the Tramp," went out and bought a transistor radio.
The clown unit has supplied more than smiles and batteries over the years. Their philanthropic efforts include scholarships to graduating seniors as well as donations to agencies throughout Auglaize and Mercer counties. Fundraising events ranged from an annual Super Bowl party to Poor Man's Suppers complete with beer and bologna sandwiches.
"Saturday's parade will be one of the hardest because it is the last," Grimm says. "There will be tears; there has to be because you can't walk away from an important part of your life without feeling some regret."
He said he and the others look forward to hearing "Thank you Mr. Clown" at least one more time Saturday.
Phone: (419)586-2371, Fax: (419)586-6271
All content copyright 2005
The Standard Printing Company
P.O. Box 140, Celina, OH 45822