By Margie Wuebker
mwuebker@dailystandard.com
The Mercer County Fair offers a smorgasbord of treats for the eye and the palate.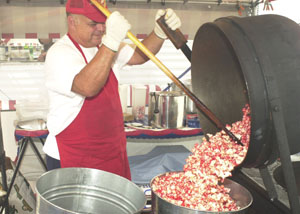 Touring various display buildings, watching a livestock show or simply strolling the midway is sweetened by the prospect of an elephant ear liberally dusted with cinnamon and sugar, piping hot french fries splashed with vinegar and salt or a lemon shakeup chock full of ice.
Concessionaires come from near and far to make sure no one leaves hungry with a varied menu ranging from corn dogs and burritos to apple dumplings and deep fried Twinkies.
The sound of popping corn fills the air as Dan Mango vigorously stirs a new batch at the kettle corn stand by the paging booth.
This marks the sixth year Mango and his wife Joann, residents of St. Petersburg, Fla., have set up in the same location. Regular customers, including two women in their 80s who show up like clockwork each afternoon, know where to find them. Newcomers discover the colorful tent en route to band shows, demo derbies and harness races at the grandstand. "We set up on gravel or grass at most fairgrounds," she says. "This is without a doubt our hottest fair because we spend the week on blacktop."
Fans have been their redemption in recent days as temperatures climbed into the mid-80s and 90s. The gas-fired kettle feels like a blast furnace as it reaches 435 degrees -- the level at which kernels turn into puffy morsels.
Dan Mango, a retired industrial engineer, uses only pure soybean oil because it withstands the heat and adds no foreign flavor. He can turn out a couple pounds of popcorn every two minutes or 30 bushels per hour. The recipe remains a closely guarded secret
"Munchies generally hit about two hours after dinner and supper," he says. "Something crunchy is always a weakness. That's why potato chips are so popular. Kettle corn also comes with the right amount of sweetness."
Joann Mango tantalizes customers with jewelry rather than food, drawing considerable interest as she writes names on teeny, tiny grains of rice. She uses a special pen imported from Germany to complete the process she learned from a fellow concessionaire in Florida.
David and Jill Shives of Greenville are marking their 29th year in the concession business. They own six food trailers including Dave's Doghouse and the french fry trailer they towed to Celina.
"We started offering fresh, hand-battered corn dogs in 1978," he says. "The name of the stand is appropriate since I'm usually in the dog house for one thing or another."
The Italian sausages they sell are made exclusively for them by Winner's Meats, Osgood, and the smoked Polish links are purchased from a Chicago supplier. For larger expositions, like the Darke County Fair, they roll out the Dough Shop offering homemade breadsticks and calzones and a mobile doughnut shop.
Jill Shives carefully slathers ketchup onto a hot corn dog with the aid of a small paintbrush, then hands it to a waiting customer and says, "Watch out honey, it's real hot."
Three-year veterans Peggy Rhoades and Anthony Bufford, co-owners of A&P Concessions of Tipp City, can be counted on for novel taste treats.
Two years ago they introduced deep fried Twinkies dusted with powdered sugar and drizzled with chocolate syrup. Their newest treat is sweet potato fries finished with brown sugar and butter.
"We tried them at a bluegrass festival in Chillicothe, and they knocked our socks off," Bufford says. "We always look for something a little different than the rest of the pack."
Carl and Frank Patinella of New Jersey, with 33 years of combined experience in the concession field, are newcomers to the fair after finding themselves in Ohio with a week to spare between engagements.
"We checked a list of fairs and found this one," Frank Patinella says. "Fortunately, there was space, so here we are."
The father-son operation bears no fancy name but boasts elephant ears made with "grandma's homemade Sicilian bread dough." Connoisseurs face numerous topping options -- powdered sugar, cinnamon and sugar, pie filling and pizza-style complete with warm tomato sauce, Parmesan cheese and pepperoni.
"Everybody has a specialty they claim is the best on the fairgrounds," he says. "I guess customers are the judge and jury because the proof is certainly in the taste."