By Margie Wuebker
mwuebker@dailystandard.com
Four Coldwater residents were injured Friday afternoon when the van in which they were riding overturned in a cornfield.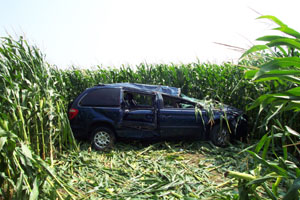 The three-vehicle accident occurred around 3 p.m. at the intersection of Fairground and Fleetfoot roads, west of Celina, according to Mercer County Sheriff's Office reports.
Fred Grimm, 85, 6216 Morrow Road, Celina, reportedly stopped his northbound minivan at the stop sign on Fleetfoot Road. He then proceeded into the intersection striking the side of an eastbound minivan driven by Theodore Evers, 60, 308 E. South St., Coldwater.
The Evers van spun in the roadway striking a westbound car driven by Jessica Brown, 30, 7100 Fleetfoot Road, Celina. The van then traveled off the right side of the road cutting a swath 20 feet into a cornfield before overturning.
Backseat passengers Sarah Evers, 12, also of 308 E. South St., and Emily Grieshop, 12, 116 E. South St., Coldwater, were ejected. Grieshop was pinned by the wreckage briefly until a wrecker righted the 2002 Dodge, the sheriff's report says. The driver and front-seat passenger Katie Evers, 13, also of 308 E. South St., remained inside the vehicle.
Paramedics carried the victims from the field littered with downed cornstalks, loose ears still shrouded in husks and twisted vehicle parts. Two pink and white John Deere hats lay side by side just inside the field.
All four from the Evers van were taken by ambulances to Mercer County Community Hospital in Coldwater. Sarah Evers was transferred later by CareFlight helicopter to Miami Valley Hospital in Dayton, where she was listed in critical condition in the intensive care unit at presstime Friday night.
The other victims were undergoing treatment in the Coldwater emergency room, according to a nursing supervisor. She did not know whether all of them would be admitted as of Friday night.
Brown and her 8-year-old son, Zachary, escaped injury and so did Grimm and his 83-year-old wife, Margaret.
Three sheriff's cruisers responded to the scene along with several Celina Police units. Fairground Road remained blocked for a time until the three ambulances departed. A truck from the Celina Police Department also was dispatched to the scene and Pastor Randy Christian, the sheriff's office chaplain, came to comfort the elderly couple until relatives arrived.
The heavily damaged Evers minivan was towed from the scene with cornstalks still clinging to the shattered windshield and twisted metal. The report listed moderate front-end damage to the other minivan and light damage to the car.
The accident remains under investigation.