By Margie Wuebker
mwuebker@dailystandard.com
BURKETTSVILLE -- Some of the best apple pie bakers in the area have called this community home at one time or another.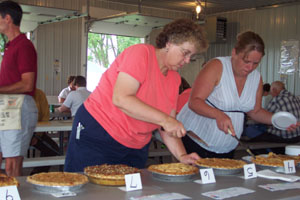 An apple pie contest -- a new feature at the Burkettsville Community Picnic -- drew 12 entries Sunday afternoon.
Judges tasted each tantallizing entry before awarding first prize to Alice Rindler for her Caramel Apple Pecan Pie. The recipe came from her sister, Laura Schulze.
"I don't bake alot but my sister does," the happy winner says. "I asked her for a recipe and she sent me this one."
Keith Rindler encouraged his wife to enter the competition first proposed by park and picnic committee member Kathy Hemmelgarn. Rindler, who moved to the area in late June, baked the pie Sunday morning and brought it to the grounds still warm. The variation of crumb-topped apple pie includes chopped pecans and drizzled caramel ice cream topping.
First runner-up Ruth Kunkler of Burkettsville is no stranger to pie baking.
"I make my pies the same way my mother (Catherine May) did," Kunkler says. "She used a dash of this and a pinch of that. The basic formula is easy to remember -- 4 cups fruit, 1 cup sugar and a little flour for thickening."
She made the two-crust pie Sunday morning. It emerged from the oven golden brown with the aroma of apples and cinnamon filling the kitchen.
"I really didn't care about winning," she says. "The pies will be sold by the slice at the lunchstand with the money being put to good use here in the community. That's why I entered."
Carolyn Hemmelgarn of Greenville finished third with Apple Crumb Pie, a recipe she found years ago in a Better Homes and Garden cookbook.
"My mother (Luella Franck) encouraged me to enter," the she says. "Mom calls me the best pie baker in the family."
She also spent time in the kitchen Sunday morning before heading to the grounds, where judges rated each entry on the basis of taste, texture and appearance.
Kathy Hemmelgarn initially proposed the contest during a picnic-planning session months ago. She knew there were many talented bakers in the area and felt the event would draw considerable interest.
"This contest was my wife's cup of tea," Dennis Hemmelgarn says. "It was everything to her. Twelve pies -- she would have been so happy."
The woman with an outgoing personality, warm smile and a deep commitment to the community that became home following her marriage died suddenly Aug. 8. Her funeral took place Thursday, one day before the start of the picnic.
She had experienced dizziness after getting up but it seemed to pass as she rested on the love seat. She refused her husband's offer to stay home, but called 911 more than an hour later to report numbness on the left side and severe stomach pain. An ambulance rushed her to Mercer County Community Hospital in Coldwater, where she was pronounced dead at the age of 52.
"Kathy had everything ready to go for the contest," picnic chairman Al Siefring says. "The contest meant a lot to her so we are carrying on in her absence."
The flagpole, located just outside the shelterhouse where the contest was held, displayed a flag that flew at half mast over the weekend in her honor.
People on the grounds spotted a beautiful rainbow following a brief shower Saturday. It began brilliantly near St. Bernard Cemetery, where she is buried, and faded just over her West Main Street house.
"It gave me goose bumps," one festivalgoer said. "A lot of us consider that rainbow a sign that Kathy is still with us in spirit."
Phone: (419)586-2371, Fax: (419)586-6271
All content copyright 2005
The Standard Printing Company
P.O. Box 140, Celina, OH 45822