By Shelley Grieshop
sgrieshop@dailystandard.com
An overnight spike of gasoline prices left Grand Lake motorists paying record prices for fuel today -- perhaps more than most drivers across the country, according to recent figures from AAA Auto Club.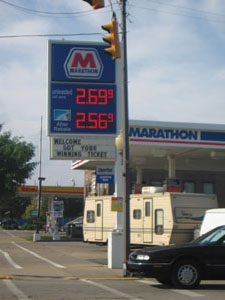 The price for a gallon of regular gasoline rose 13 cents Monday night to a high of $2.69 in downtown Celina. That price was closely matched by nearly all area gasoline stations.
The steep local prices were higher than 48 of the 50 states in the United States -- only California and Hawaii were higher with $2.76 and $2.74 respectively, according to the AAA fuel gauge report.
Oil experts across the state confirmed the local and statewide gas prices are the highest ever recorded. However, no one could say why prices found in Mercer and Auglaize counties were topping the state and national numbers.
AAA figures posted at 3 a.m. today placed Ohio's average gasoline price at $2.50, two cents behind the national average. AAA spokesman Bill Purpura admitted the Internet posted price may have been well under the actual state average, which likely jumped after the early morning tally. "I'm also seeing prices of $2.63 to $2.69 here (Columbus area), so I know that's probably low and it will likely climb," Purpura said, adding the average prices are based on credit card purchases of gasoline made around Ohio.
At today's prices, it will cost the owner of a Chevy Tahoe (SUV) about $70 to fill its 26-gallon tank.
Experts say speculation is driving the oil market and the subsequent high prices at the pump.
"Think about the places where our oil is coming from," said Terry Fleming of the Ohio Petroleum Counsel. "Places like Venezuela and Saudi Arabia, volatile countries where no one knows what's going to happen from day to day."
The death Aug. 1 of Saudi Arabia King Fahd Bin Abdul Aziz immediately caused stockbrokers to panic and prices to climb. Saudi Arabia is considered the top oil exporter in the world, and the United States, particularly, is closely watching for changes in that country's oil policy.
The war in Iraq and recent disruptions of oil due to hurricanes also have contributed to the rise in the oil market, Fleming said.
Denny Knoth of Ottawa Oil, based in Lima, said credit card purchases also are adding to gasoline costs.
"Gas companies are paying a 3-cent fee on every credit card transaction at the pump. And like everything else purchased, more and more people are using cards instead of cash," he said.
Knoth said the public also may not realize that federal and state taxes make up a big chunk of the gasoline price tag. Of the $2.69 per gallon paid, 46.4 cents goes back to the government, Knoth said.
Ottawa Oil operates mainly Shell gas stations, with three located in Celina, two in Coldwater and one in Fort Recovery.
Even though demand for gasoline is somewhat dwindling due to the end of the summer vacation season, supply is still in question.
"Oil refineries simply cannot produce enough," Knoth said. "Some of our suppliers are telling us there could possibly be allocations if things don't change."
Knoth said allocations could mean a reduction in the supply to gasoline stations, but he doesn't believe there will be any shortages at the pump.
"Demand becomes a problem when prices are high like this. People are afraid the numbers will rise overnight, and they start topping off their tanks whenever they get the chance," he said.
Will prices drop anytime soon?
"I just don't know, it's hard to say," Knoth said. "I honestly didn't think they'd go up this high."
Knoth advises motorists not to take their anger out on "the gasoline station owner on the corner." Because of low gasoline profit margins, owners aren't making any more money now than when prices were 99 cents per gallon, they said.
"As a matter of fact, it's probably worse now," Knoth said. "After customers put gas in their tanks, they have little money left over for a pop, chips or a lottery ticket -- things that actually show a profit."