By Shelley Grieshop
sgrieshop@dailystandard.com
FORT RECOVERY -- Jacob Siefring giggles, then quickly places his hand over his mouth as he contemplates a question from his mother.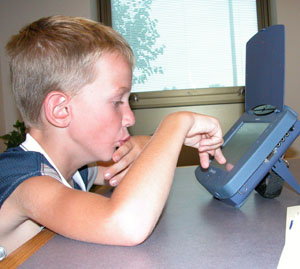 He grabs a small blue box resembling a miniature computer and begins tapping at the keys. "Mrs. Diller" appears on the screen as a computer-generated voice reads the words aloud.
The special equipment, called a Dynavox, is the 8-year-old's voice. Born with a genetic, incurable disease called Fragile X Syndrome, the bubbly child is unable to speak coherently most of the time and has used the electronic device to communicate the last two years.
He adapted to the device so well, that he was chosen by a group of statewide educators to receive the R.A. Horn Award today in Columbus for "outstanding achievement."
"I was bragging about Jacob and all he's accomplished at a meeting a while ago and someone suggested we nominate him for the award," says Kathy Staugler, of the West Central Ohio Special Education Regional Resource Center (SERRC) of Wapakoneta. SERRC is an educational service that strives to meet the needs of school districts, as well as parents and students, with special needs. The agency nominates educators of special needs children as well as the children themselves for outstanding progress.
Siefring, a second-grader at Fort Recovery and the son of Neal and Elaine Siefring of New Weston, received the blue Dynavox when he was just 6, following a consultation between Staugler and his preschool teacher, Mary Diller.
Almost immediately it became clear the machine was the child's missing link.
"It was like an awakening," Staugler says. "He had something to say."
The device is programmed to speak clusters of pre-programmed words and sentences typed out by Siefring.
The young boy is doing amazingly well, his teachers say. Credit for his success is shared by the many people whose lives he's touched.
"His mother has always gone above and beyond," says Nancy Knapke, the school's elementary principal.
His mother, who was awarded the Walter B. Horn Award (the adult version) last year, admits she pushes hard when it comes to her son's progress. But she claims his educators have made the difference.
"They just didn't quit, they've never given up on him," she says.
Diller worked with the student through her lunch hour. Kindergarten and first-grade teachers Diane Burke and Susan Bertke, along with speech therapist Stacy Rammel, all kept up the pace and encouraged the little guy to communicate in "his special way," Knapke says.
Elaine Siefring recalls arriving at school to pick up her son not long after he received the Dynavox.
"He showed me what he had written -- I love you mom," she says tearfully.
Getting Siefring to use the device more socially is an immediate goal. Improving his speech so he doesn't need the Dynavox at all is a distant goal, but reachable for the young boy who never seems to get discouraged, everyone agrees.
There was a time that his mother thought the communication device could hinder his desire to speak, but after seeing the improvement not only in his speech but reading and other skills, she knows he's heading in the right direction.
"I think he can do anything he wants to do," she says. "I know he's taught me a lot."