By Gary R. Rasberry
grasberry@dailystandard.com
After opening its season with a respectable 311 on Monday, Celina came back on Tuesday and got better.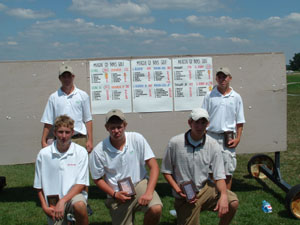 Three Celina golfers carded scores in the 70s as the Bulldogs captured the Mercer County Golf Tournament at The Fox's Den Golf Course.
Celina, coming off a second-place showing at the Defiance Invitational, had all six golfers shoot 85 or better to finish with a 309, 22 shots better than runner-up St. Henry. Coldwater took third with a 332 while Marion (363), Parkway (378) and Fort Recovery (400) rounded out the field.
"From a scoring standpoint, it's a lot better," said Celina coach Keith VanDeventer, comparing scores from last season. "It's early, though. We have to get better each week to get ready for the end of the year."
The Bulldogs won using solid scoring from their top three golfers. It was number-three golfer Ryan Moran who came up big, earning county champ honors with a two-over 74. Patrick Bailey, coming off a solid 2004, was runner-up with a 75. Paul VanDeventer, the number-one rated golfer for Celina, carded a 78 to take fourth after St. Henry's Jay Woeste finished with a 77 in third. Kurt Riethman of Coldwater earned the final plaque of the tournament with a fifth-place 80. "Ryan has put in a lot of time (this summer)," said coach VanDeventer. "He's deserving of this (win). Our number one guy finishes third (on the team) today. That's great for the team. I'll take our chances with this team anytime."
All six St. Henry shooters had scores below 90. Robby Brunswick came in with an 83 while Eric Stout carded an 85. Tyler Post (86), Brian Knapke (88) and Jon Ranly (89) rounded out the Redskins' day.
Seth Kahle helped out the Cavalier cause with an 82. Josh Obringer added an 84 while Ryan Buening (86), Aaron Evers (88) and Nate Bladen (90) finished up strong.
Marion was led by Jordan Moeller's 82. Parkway's Ross Black fired an 85 as Trevor Krogman struggled down the back nine, finishing with an 87. Fort Recovery was led by Aaron Kahlig's 90.
It was a reversal of places in the junior varsity competition as St. Henry won with a score of 338, which would have placed them fourth in the varsity contest. Celina was second with a 377 and Coldwater earned third with a 383.
The jayvee Redskins swept the plaques for top three. Ryan Wehrkamp shot an 82 to earn medalist honors. Andy Stout carded an 83 with Austin Jones coming into the clubhouse with an 84. All six St. Henry golfers shot 89 or under.
Celina will host another golf invite on Friday as 20 teams will take part in The Fox's Den Invitational. The tourney will start at 8:30 a.m. with a shotgun start.
Phone: (419)586-2371, Fax: (419)586-6271
All content copyright 2005
The Standard Printing Company
P.O. Box 140, Celina, OH 45822