By Gary R. Rasberry
grasberry@dailystandard.com
As the scores were coming in for the windy Fox's Den Invitational, Celina coach Keith VanDeventer was feeling good about the fact that a score of 320 could be a contender for the team title at the Celina Fox's Den Invitational on Friday.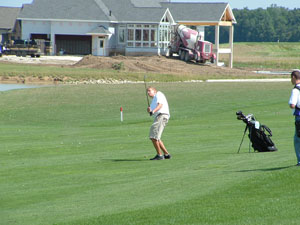 The Bulldog varsity team --Celina Green -- carded a 320.
But that was only good for second place as fellow Western Buckeye League team Bath wrapped up the day with a 310 to take the team title. Another WBL team, Defiance, beat Van Wert via a fifth-golfer tiebreak to take third place in the 20-team invitational.
Minster placed sixth with a score of 329. Coldwater was seventh with 330. St. Marys and Versailles wrapped their day with a 340 while St. Henry finished with 341. Celina's junior varsity team -- Celina White -- shot a 367 and New Knoxville rounded out the field with a 400.
VanDeventer was happy with the rebound from a round of 339 on Wednesday at the Kalida Invitational. "As scores were rolling in with 3-4 holes to go, a 320 sounded real competitive," said VanDeventer. "We fell a little short, but we're making our progess.
The only Celina golfer to earn hardware was Ryan Moran, the Mercer County champion for 2005. Moran was tied with Van Buren's Brian Bowker at 76, prompting a playoff to settle fourth and fifth place. On the 10th hole, Moran teed off first and put the shot away from the green. Bowker got much closer. Moran did par the par-4 hole, but Bowker got it in with three to earn fourth place.
Paul VanDeventer added a 77 for Celina with Patrick Bailey closing out the day with an 81.
Coldwater was led by Kurt Riethman's 79. Minster was paced by 81s from Evan Lee and Jimmy Stechschulte.
Jay Woeste and Robby Brunswick led St. Henry with 81s. Greg Hartings was low man for Marion with 86.
Celina now has a break to get ready for the WBL opener next week -- The Grand Lake Links Battle -- with St. Marys at The Fox's Den.
"The WBL is going to be tough," said VanDeventer. "Fortunately, we have a week now. We don't play St. Marys until Thursday. We have six days where we can practice and get better. That's our intentions. We're going to work to get better and get this thing started."
GOLFROUNDUP
Redskins third at Lancer Inv.
St. Henry finished third at the Lancer Invitational on Thursday at the in Van Wert.
The Redskins finished up with a score of 324. Ottoville won the title with a 306 with Antwerp second with 319.
Jon Ranly led the Redskins with a 78. Jay Woeste came in with a 79. Rob Brunswick carded an 83 with Ryan Wehrkamp finishing up with 84. Eric Stout fired an 85 to round out the varsity scoring.
Ottoville's Nick Miller picked up medalist honors for the second straight day -- having won at the Kalida Invitational on Wednesday -- with a (Continued from page 8)

73.
The St. Henry junior varsity won a nine-hole tournament at the Woods with a 165. Austin Jones shot a 39 to lead the Redskins. Andy Stout and Tyler Post added 42.
St. Henry is playing in The Fox's Den Invitational today in Celina.
Wildcats win Auglaize County title
Minster picked up its second invitational win this week by capturing the Auglaize County Invitational at The Fox's Den on Wednesday.
The Wildcats shot a 302 to beat Wapakoneta by six strokes. St. Marys was third with 325 with New Bremen fourth at 334. New Knoxville was sixth in the six-team field with 402.
Jimmy Steschulte captured the medalist honors with a three-under 69.
The Minster junior varsity made it a sweep in taking the junior varsity title with a 337. St. Marys was second with 346 with New Bremen fourth with a 371.
GIRLS GOLF
Celina loses first tri of year
Celina's girls golf team shot an exceptional 209 on Thursday at the Elks in a three-team match, but Arcanum captured the tri-match with a 190. Fort Recovery was third with 249.
Lauren Fuelling and Kelsey Smith paced the Bulldogs with rounds of 48. Lisa Budde shot a 52 with Emily Stolly carding a 53.
Fort Recovery was led by Jill Wehrkamp's 49. Lori Hart shot a 61.
Jackie Eib of Arcanum shot a sizzling 35, one-under par on the front nine. Eib was helped by hitting a hole-in-one on the par-3 fifth hole.