By Janie Southard
jsouthard@dailystandard.com
ST. MARYS -- They're not wearing plaid jumpers, navy blue coats and ties, but students at Holy Rosary School are wearing uniforms this year for the first time in the school's 103-year history.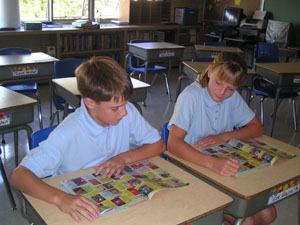 "We talked about this 15 years ago, but the idea wasn't well accepted by parents. They felt the uniforms meant a lack of creativity and individuality. But there have been no repercussions so far," said Holy Rosary Principal Anna Mae Saum.
Those 1980s parents were worried their kids would be singled out, especially the older students who routinely attended some classes at McBroom Junior High School; but singled out is exactly what Holy Rosary Pastor Tony Cutcher has in mind.
"Over the years I think this parish has tried and tried to blend in with the community, and unfortunately, they have succeeded. But they've also lost their identity. That's what I want to build, and build on -- our unique Catholic identity," said Cutcher, who has served as Holy Rosary's priest for the past nine months.
"Despite (the Catholic church's) current crisis of trust, we still tend to be moral leaders to the people in the pew. But our stance (in St. Marys) has weakened. I want to remind people, particularly the Catholics, that we're still here," he continued. In his letter to parents, Cutcher wrote: "Somehow, we've lost the feeling that it is something special to be Catholic, and that as Catholics, we are called to witness to the world that our values are rooted in something other than current trends, worldly wealth or fashion."
Cutcher said he wants the young people to feel part of the "unique" Catholic society.
"I think that best begins early. Uniforms help define our students as Catholics and that's why I favor them," he said from his office Tuesday morning.
Immaculate Conception Catholic School Principal Kathy Mescher said there has never been uniforms in IC's 125 years.
"We've talked about it, but the reaction from students and parents has been mixed. At least, we've never had enough unanimous thought to go further with the idea," she said.
Students at St. Joseph Catholic School in Wapakoneta have worn uniforms since 1974. Principal Ron Fahnke said elementary parents really like the idea.
"But as the kids get older, they get more vocal about not wanting to wear uniforms," he said.
Fahnke personally likes the idea of uniforms, but said he would actually favor a dress code rather than straight uniforms. St. Joseph students' wardrobes consist of tan and/or navy trousers, slacks and skirts with a choice of four different colors of shirts, which parents can purchase from any area store.
Holy Rosary school serves kindergarten through eighth grade; St. Joseph is pre-kindergarten through eighth grade; and Immaculate Conception school is pre-kindergarten through sixth grade.
The first public school in the area faced with the possibility of uniforms was Coldwater, where school staff and parents talked informally about the topic at a recent board meeting. The conversation was triggered by a routine update of various policies that all districts receive from the Ohio Department of Education.
"We discussed a little about our present dress code policy, and where we may want to go. After that meeting I was encouraged that people came up to and seemed to be receptive and willing to discuss the matter further," said Coldwater Superintendent Rich Seas, adding Coldwater students are not "all that bad with their dress now."
Although the school year is just getting started, the Holy Rosary students appear to be right at home in the new uniforms, which are flexible in many respects.
Kids can wear pants, shorts (during the first and fourth quarters of the school year), skirts, jumpers, skorts or culottes as long as they are navy blue or khaki in color and made of cotton or cotton blends, but no Capri pants.
Shirts, which must be tucked in, must also have a collar and sleeves with no frayed edges or cut-off sleeves. They must be solid in color and thick enough not to reveal undergarments. Color choices include: white, light blue, royal blue, gray or light pink.
No sandals or open toes shoes.
It appears more strict on paper than it looks in the classroom, mainly because of the numerous choices kids can make every day. Classes aren't just a sea of navy and light blue.
The big plus is that the students don't seem to mind the uniforms, although many of them originally balked at the idea.
Nick Wilker and Brittany Henning, both eighth- graders at Holy Rosary, agreed that when they heard about it this summer neither one thought uniforms were "that great an idea."
But, after only two days, Wilker said one reason he likes uniforms now is that it's a lot easier to get dressed in the mornings.
"You don't really have to pick out what you're going to wear. You just put it on and go," he said.
Henning said the whole thing is "just not that big of a deal."
Eighth-graders have a little more leeway than the other grades. In addition to the solid colored shirts, they can wear stripes except on Wednesdays, which are Mass days.
There are no stipulations as to where the clothing will be purchased. Parents can the clothes anywhere as long as they observe the dress code. It's easy to see that the clothes may be the same colors, but they're not all the same manufacturer.
"Oh, yes, our kids look very sharp. Actually I think they seem proud of themselves, in a good way," Saum said.
Any chance for a dress code for teachers?
Saum shakes her head. "My teachers have always dressed professionally and there has never been a problem. Besides, we are the adults and we do have some privileges," she said.