By Shelley Grieshop
sgrieshop@dailystandard.com
Marijuana plants with a street value up to half a million dollars were recovered during a recent airplane search in Auglaize County.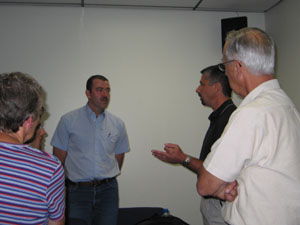 The 372 plants that were confiscated mainly in the north and northeast portion of the county is more than triple the numbers found in recent airplane fly-overs in neighboring counties of Mercer and Van Wert.
The approximate value of a single mature plant is $1,000-$1,500 after it is dried, processed and sold on the street, Auglaize County Sheriff Al Solomon said.
"I think it puts a dent in the marijuana problem here, and anything we can do to make it tougher on drug dealers, we'll do," he said.
Solomon said the fly-overs to eradicate marijuana growing in area fields have become an annual program for local sheriff departments, members of the Grand Lake Task Force and agents with the Ohio Bureau of Criminal Investigation and Identification (BCI&I). "I'd like to do more of them," he said.
The two-day search this week was conducted with the use of a helicopter owned by BCI&I. Solomon and Chief Deputy Mike Eberle assisted with the search and helped pull the plants from the fields where they were found growing.
"Typically marijuana is planted in farm fields by subjects trespassing," Solomon said, adding that farmers and/or property owners usually have no idea the plants are growing on their property.
"Subjects go to great lengths to plant and care for the crop that hopefully we end up harvesting for them," he added.
The most plants found this week in one location was 80.
According to Narconon, a national drug rehabilitation program operating in Ohio, the rural areas of the Buckeye state provide an adequate environment for the outdoor cultivation of marijuana, which continues to be the most prevalent drug throughout the state. It also is the most abused illicit drug in Ohio, and treatment records indicate its abuse is still increasing.
Most marijuana found in Ohio is shipped here from Mexico, Narconon studies indicate. Outdoor cultivation may be decreasing with indoor growth operations on the rise -- some producing high-quality marijuana, according to the studies.
A similar marijuana search operation was held in Mercer County on Aug. 10 with 110 plants discovered in Butler and Hopewell townships; that total was down from 272 found in 2004.
A fly-over in Van Wert County on Aug. 18 alerted officials to 73 plants in rural farm fields. That number was up from last year, reported a detective from Van Wert County Sheriff's Department.
Allen County held two fly-overs, one on Aug. 10 and another Wednesday. Deputies and BCI&I agents tallied a total of 268 marijuana plants in the sweep. Lt. Tom Myers of the special operations division at the Allen County Sheriff's Department said the number was down from last year. It certainly was much lower than the fly-over three years ago when 1,300 plants were located, he added.
All the plants seized in Auglaize County this week will eventually be destroyed by the sheriff's office.
Solomon, with a bit of satire in his voice, added, "If the (marijuana plant) owners want to come in with proper ID to claim the plants, we'll be glad to talk to them."
Phone: (419)586-2371, Fax: (419)586-6271
All content copyright 2005
The Standard Printing Company
P.O. Box 140, Celina, OH 45822