By Gary R. Rasberry
grasberry@dailystandard.com
SIDNEY -- With the offensive line and most of the skill players new to the lineup this season, the Redskins coaches had their concerns going into Saturday night's opener with a Lehman team that had not scored on the Redskins in two years.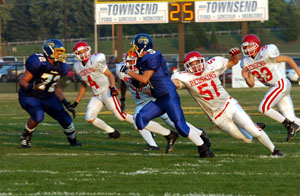 The 2005 debut for St. Henry went pretty well as the Redskins won, 34-21, at Sidney Memorial Stadium.
For new starting tailback Kyle Bruggeman, it was a solid night. The junior carried 29 times for 186 yards and three touchdowns in the game, including back-to-back runs for 23 and 20 that pushed a 20-13 lead at the half up to 34-13 with 7:14 left in the third quarter. The Redskins rushed for 259 yards in the game.
While St. Henry head coach Jeff Starkey had praise for both Bruggeman and fellow back Andy Puthoff (73 yards and a touchdown), Starkey had more praise for the offensive line, a spot where there was concern after the entire line from last season's state title team picked up diplomas in the spring. The line was hit with four holding calls in the game, but Starkey was happy his line play.
"Kyle ran the ball well. He ran the ball hard and got better as the game went on," said Starkey. "Andy is another good runner, but our offensive line, which was somewhat of a concern, really stepped up and played well against a much bigger defensive line and a lot of different blitzes." While the running game shined for the Redskins, the defense had to deal with a Lehman offense that was able to generate some timely passing.
Twice the Redskins got burnt on what looked to be the start of a sweep by halfback Dan Jacob. Jacob, however, stopped and fired off a pair of halfback passes to Alex Davis. The first one went for 47 yards and a touchdown in the first half, the second went for 42 and only a quick stop on defense prevented the play for going for another six.
"He's the type of kid who can do that," said Lehman coach Paul Neves of Davis, who had four catches for 130 yards. "He was cramping up a bit tonight. If he's not cramping up, that second-half catch would have been a touchdown. He's going to do a lot of good things for us this year.
"We showed them a lot of sweeeps (with Jacob), but hadn't showed them the halfback pass. We knew they were going to be overplaying the sweep on us and we had that. He (Jacob) did well."
Meanwhile, Kyle Corbin, the starting quarterback for the Cavaliers, went 13-for-25 for 159 yards in the game. The Redskins were able to defend well, though, as Corbin was picked off three times in the game. Twice Josh Werling made the pick and Mike Gast made the third to seal the win with 54 seconds left in the game.
"We weren't consistent," said Starkey of the defense. "It's nice to get interceptions and get turnovers and a fresh set of downs, but we have to get much more consistent on defense. We've got to make plays on third down and fourth down."
"I'm as happy and proud as I have been at Lehman," said Neves. "Our kids came out, state champions in town, and really played well. We scored three touchdowns -- we haven't scored on St. Henry the last two years. That's a good football team. They're going to have some success this year. They ran the ball a little too much on us. ... I told the kids if you took away the three interceptions we had, that's a whole different ballgame."
The Redskins did have some trouble with penalties, getting flagged eight times for 59 yards. Four penalties went for holds.
"That's correctable," said Starkey. "That's happened to some of our better players. Those types of mistakes are inexcusable, but are correctable. We'll work hard at getting better and get ready for a good (St. John's) team."
The Redskins open the home part of the schedule on Friday as the 1-0 Blue Jays come to town for the Midwest Athletic Conference opener. Lehman goes on the road this week to play another MAC team in New Bremen.