By Gary R. Rasberry
grasberry@dailystandard.com
COLDWATER -- The Celina girl's tennis team got ready for a key Western Buckeye League matchup with perennially tough Shawnee by shutting out Van Wert, 5-0, on Monday at Coldwater Community Park.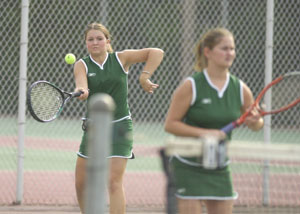 The NetDogs improve to 3-0 in WBL matches as the Cougars fall to 0-3.
"That's a nice victory for us," said Celina coach Jan Morrison. "That should be a good motivator for Thursday."
While four of the matches went the minimum two sets, the second doubles match went the distance and then some as the Celina pair of Erin Brooks and Alissa Westgerdes rallied from losing the first set 4-6 to Katey Wagonrod and Mimi Ryan.
Westgerdes and Brooks came back strong in the second set to win 6-1 to force a third set. Wagonrod and Ryan went up early, 4-2, but Westgerdes and Brooks came back to win four of the next six games to tie things up at 6-all, calling for a tiebreaker. The Celina pair got out to a 3-0 lead in the tiebreaker. The Van Wert duo got a few points before Celina got to quadruple match point at 6-3, meaning that Van Wert had to win the next five points to win by two and take the match. Van Wert got one point before the Celina pair put the match away to win the last set 7-6 (7-4 tiebreaker).
"It took some character to pull that one out," said Morrison. "That's a nice win for those two girls. It builds their confidence and lets them know to never quit."
Also getting a rally was Erynn Piper in second singles. Piper won her first set over Elise Minick 6-2 but got behind 4-3 in the second set. Piper rallied by winning the last three games to win the match with a 6-4 second set.
"She's been good at coming from behind," said Morrison. "She never quits. She has a lot of heart and soul to hang in there."
The other two singles came up with easy matches, each dropping just one game in the match. Kelly Casad won her first singles match by shutting out Lauren Offerle 6-0 in the opening set and winning 6-1 in the second. Third singles player Kendra Menchhofer won over Darci Long, 6-1, in the opener before getting the shutout 6-0 in the second.
"She took charge of that match, right off the bat," Morrison said of Menchhofer. "Kelly played really well. She seems like she's quite comfortable with her game. She took charge out there."
The first doubles tandem of Brittni Gunter and Jess VanTilburg were in full control of their match over the Van Wert pair of Maggie Ditto and Kaity Dell, winning 6-1 and 6-4 to round out the shutout for the NetDogs.
Now the Bulldogs face the team that regularly is in the hunt for the WBL title in Shawnee, which comes to Coldwater on Thursday for a 4:30 start.
"You like a 3-0 run regardless who you play next," said Morrison. "We're looking forward to Shawnee and we'll see what we can do with it."
Phone: (419)586-2371, Fax: (419)586-6271
All content copyright 2005
The Standard Printing Company
P.O. Box 140, Celina, OH 45822