By Shelley Grieshop
sgrieshop@dailystandard.com
"This sucks" was a remark echoed frequently by motorists across the Grand Lake area Wednesday as they pumped gasoline costing more than $3 a gallon.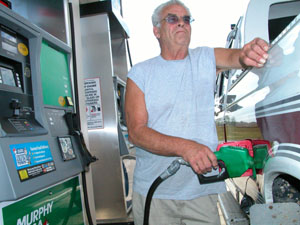 Hurricane Katrina, which created havoc on the Gulf Coast early Monday, is being blamed for the recent spike at the pump. Katrina's 135-mph winds destroyed crude oil platforms and shut down nearly half the Gulf of Mexico's oil production.
By midafternoon, most gasoline stations locally and across the state had topped the $3 mark and the fear of gasoline shortages was in the air.
"Everybody's on allocations," said Rex Bragg, owner of the BP station at Motor Inn in Mercer.
That simply means station owners don't know when or how much gasoline will be available to them from distributors at any time. "I drove a truck down to Dayton every night this week to get it myself," he added.
Bragg said he got 7,800 gallons Wednesday night and isn't sure if it will last a full day. Diesel fuel also is scarce, particularly in the Lima and Fort Wayne areas, he said.
"I have trucking companies calling me every day to see what I have," he said.
Bragg said he believes the gasoline companies are raising the prices to discourage people from buying gasoline since the supply is currently diminished and the demand remains high.
"But they're still buying, afraid it will be higher tomorrow," he said.
Bill Purpura with Ohio AAA said many gasoline stations were closed in the Columbus area because there was no fuel to be pumped. Despite high prices locally, the state and national averages ranged from $2.64 to $2.68 respectively, he said.
The average price per gallon of regular gasoline locally this morning was $3.06 in a random survey of 18 area stations. That's a 61-cent increase since Monday.
Anger toward oil companies and a general mistrust of the government and gas station owners were sentiments expressed by most drivers during on-the-spot interviews by The Daily Standard throughout the day.
"I think they're just ripping us off," said Joe Wilson of New Bremen, as he filled one of two 19-gallon tanks in his Ford 350 pickup truck at Murphy USA at the Wal-Mart Supercenter in Celina. "I blame Bush."
At $2.99 per gallon, the posted price Wednesday afternoon, it would cost Wilson $115 to fill both tanks of the big red and white truck.
Shaking his head in disbelief, he said it's time to switch vehicles.
"I'm going to take this one home and park it in the garage. I'll drive my little Buick. It's an older model, but it takes a lot less gas," he said.
Hurricane Katrina crippled eight Gulf refineries that normally turn out about 1.8 million barrels of gasoline each day -- about 9 percent of daily U.S. needs, according to The Associated Press.
The southern states of Louisiana and Mississippi are crucial to the U.S. energy supply. The disruption of offshore oil and gas production, import terminals, pipeline networks and numerous refining operations in those states are expected to be felt for days, possibly weeks.
U.S. consumers use about 9 million barrels of gasoline a day, which translates to about 380 million gallons, according to data from the Senate Energy Committee.
"What can we do about it?" asked Celina resident Trish Link as she filled up her pickup truck Wednesday. "I just hope they get it situated soon and the prices come down."
Link optimistically said someone always has it worse. While passing through Fort Wayne earlier in the day, she spotted signs for regular gasoline at $3.40 per gallon.
Other motorists told The Daily Standard they, too, despise the pinch at the pump but the devastation down south makes them feel a little guilty about whining over gasoline woes.
"At least our cars haven't been washed away," said one man who asked not to be identified.
President Bush on Wednesday moved to release oil from an emergency government stockpile and to temporarily ease pollution standards on gasoline and diesel fuel. He still cautioned gasoline prices will likely rise.