By Ryan Hines
rhines@dailystandard.com
St. Marys head coach Doug Frye talked during the past week about trying to find more balance in the running game and spreading around the carries.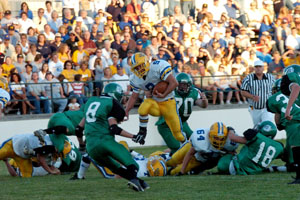 Coach Frye had to like what he saw on Friday night at Celina Stadium as three different Roughrider running backs eclipsed 85 yards and paved the way to a 32-20 St. Marys win over the Bulldogs in the Battle of Grand Lake.
Bo Frye was once again the workhorse rushing the ball 29 times for 162 yards while piling up four touchdown plunges, but the bruising Roughrider fullback had plenty of help in the backfield.
Scott Laman, who coach Frye refers to as the 'best blocker he's ever had at St. Marys,' showed off his running ability rushing the ball 17 times for 116 yards. Koby Frye added an 88-yard day on 16 carries with one touchdown as the Roughriders accumulated 372 rushing yards on 66 carries (5.6 yards per carry).
"We tried to get Scotty Laman a few more balls this week and he really came through behind a strong performance by the offensive line," said Frye. "Each week we will continue to try and spread that out even more with Brett Baker and Zach Dammeyer getting more carries along with Scott, Bo and Koby." "They have a really nice offense and they didn't turn the ball over at all," said Celina head coach Mike Fell. "They came off the ball well with their offensive line and they did a great job. Both teams were physical. St. Marys takes what they can get and that's the key to their offense."
Celina gave St. Marys all it could handle until the final minute of the third quarter and into the final quarter of play.
The Bulldogs took a 20-19 lead with 5:25 left in the third quarter when Erik Chapin capped a long Celina drive with a one-yard bootleg for a touchdown. Chapin's score, his third of the night, capped a 14-play drive that covered 67 yards and took nearly seven minutes off the clock.
St. Marys responded, though, with an 11-play drive covering 65 yards with Koby Frye bursting in the end zone from six yards out with 54 ticks left in the third frame. The Roughriders' score put them on top 25-20 after missing on a two-point conversion for the third time on the night, on all passes.
Celina went three-and-out on its next possession and St. Marys capped the scoring in the contest and put the game away with another 11-play drive that covered 57 yards on the ground with Bo Frye hitting pay dirt from three yards out.
In the end, it was the St. Marys running game that just seemed to wear down Celina. The Bulldogs gave up just 101 yards on 28 carries a week ago, but struggled stopping the Roughriders' vaunting running game on Friday.
"Our style of play tends to take a toll on a team late in games and I think that was the case tonight," said coach Frye. "I think that offensively we stepped it up in some key moments. Everytime that we play Celina you know that it's going to be a physical game with a lot of hitting."
"I think that we came out hitting with them but the difference was that we never stopped them," pointed out Fell. "They continued to attack our corners with their running game and we didn't stop them. They ran the sweep every which way they could and we couldn't stop it. Bo made plays up the middle and we couldn't take away the outside."
It was the Bo Frye and Erik Chapin show for most of the first half and into the third quarter as both went over 100 yards in the the first half and combining for all five first-half touchdowns.
In the first two games, Chapin has now run for 240 yards from his quarterback position with five touchdowns and passed for another score. Bo Frye, who missed a few plays in the second half with an upper-ankle sprain and was noticeably limping, has totaled 261 yards and six scores in his first two games.
Celina is back in action on Friday at the road at Van Wert for another WBL affair while St. Marys is hosting Defiance.
"We've played two pretty good football teams and played them both tough and the good news is that it's not the end of our season and we still have eight games left," concluded Fell. "We just need to get back to the drawing board and go out and get them."

NOTES: Suspended captain Andy Harner (running back and punter) and Tom Mitchell (defensive line) will return to the field this week after a two-game suspension. ... Celina running back and kicker Brandon Ley will likely miss another two or three weeks with a quadriceps tear suffered in the season opener against Lima Senior.
Phone: (419)586-2371, Fax: (419)586-6271
All content copyright 2005
The Standard Printing Company
P.O. Box 140, Celina, OH 45822