COLDWATER -- For a game that took over two and a half hours to complete, it sure didn't take long to decide the winner.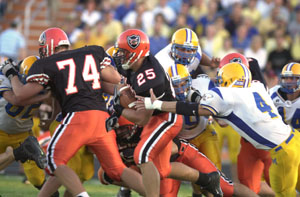 The Coldwater Cavaliers scored in rapid-fire succession in the first half and blew out the Marion Local Flyers before halftime en route to a 38-7 victory at Cavalier Stadium.
Coldwater improved to 2-0 with the win and started off the defense of its Midwest Athletic Conference crown by registering its first league win. Marion fell to 1-1 overall and is now 0-1 in the MAC.
Three crucial first-half turnovers by the Flyers led directly to three Cavalier scores, as the hosts seemed to circle like sharks and attack when they smelled blood.
"That's the type of football team we want to be," said Coldwater coach John Reed. "We want to be a dynamic football team in every phase of the game. We work so hard on special teams and we try to create turnovers with our pressure and the kind of coverages we use. We have got some real skill players on both sides of the ball and we're able to get them involved in our special teams. The team you saw tonight was the team we want to be, which is a big-play team." After holding Marion on its first two drives, Coldwater began its first scoring drive just inside Marion territory. A holding penalty set the hosts back to start, but quarterback Steve Borger made the yardage back and more when he scampered for 35 yards on two straight runs. After an incompletion, running back Ross Homan took a pitch from Borger, broke a tackle and darted 17 yards to pay dirt. Trevor Stromblad's point-after made the score 7-0.
The Flyers coughed up the ball on the first play of the ensuing possession, giving the Cavaliers the ball on the Flyer 30-yard line. Two runs preceded the second score, an 8-yard pitch and catch from Borger to Brady Geier.
Borger threw his second scoring strike on the Cavaliers' next possession. This time it was a 45-yard bullet that hit Ryan Geier in stride and the sophomore took it to the end zone to put the hosts up by three scores.
As if things didn't start out badly enough for the Flyers, they got worse in a hurry.
After driving deep into Cavalier territory on their next possession, the Flyers were denied when Joe Wermert stepped in front of a Chris Stucke pass and took it 86 yards for another Coldwater score.
Two drives later Marion was once again bit by the turnover bug, as Coldwater's Justin Kahlig scooped up a fumble and ran it in from 15 yards out to put the capper on a wild first half.
"We got off to a horrible start, mainly offensively, and we just kept shooting ourselves in the foot," said Marion coach Tim Goodwin. "Coldwater's obviously an excellent team, and I'm just disappointed we didn't play better. It's not the end of the year, and we've just got to go back to work. I still think we've got some talent, so we've just got to learn what we can from this and move past it."
The offensive key for the Cavaliers was getting the running game going early, as Homan racked up 67 yards on 11 carries in the first quarter alone. Homan finished with 138 rushing yards on 17 totes.
"Our goal coming in was to establish the run early on," said Reed. "They have a great pressure package when we get into our spread, so we wanted to go away from that early on just try to line up with them. The thing about a spread offense is that you tend to not be as physical because you're pass blocking, and we're trying to become more physical."
The Cavaliers will hit the road Friday for the first time this year when they travel to New Bremen to take on the Cardinals. The Flyers, on the otherhand, will host a game for the first time when the St. Henry Redskins come calling on Friday.
Phone: (419)586-2371, Fax: (419)586-6271
All content copyright 2005
The Standard Printing Company
P.O. Box 140, Celina, OH 45822