By Gary R. Rasberry
grasberry@dailystandard.com
COLUMBUS -- On September 3, 2005, the Ohio State University football team took to the field for the 116th season opener.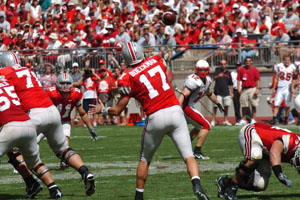 For two years, Todd Boeckman has been on the sidelines, watching games, supporting his teammates and waiting for his chance to take to the Ohio Stadium grass to play in a regular season game.
At around 2:32 p.m this past Saturday, the chance came as the St. Henry graduate came in to take over the offense for starter Justin Zwick in the third quarter against Miami University. The Buckeyes were up on the Redhawks 27-0 and it looked like Boeckman was coming to guide the team to the finish.
But it didn't take long for Boeckman to put an exclamation point on his debut. Boeckman completed his first two passing attempts as a collegian, the second going for a touchdown to wrap up the scoring for the Buckeyes in what ended as a 34-14 win over the Redhawks.
It was two years since Boeckman first took to the field in an Ohio State uniform, a courtesy as a "grey-shirt" -- paying his way for the first year until after spring when he could accept a scholarship. Another year as a redshirt and working the scout team followed. His only chance to shine was two Spring Game showings that had Buckeye fans noticing his skill. For Boeckman, it was time well spent.
"I knew I wasn't going to play the greyshirt year," said Boeckman. "Last year I almost had the chance to come in and play. This year, I'm going to do what I can."
It was hoped that Boeckman would get in during the first half sometime, but with Miami hanging around and trailing just 20-0 at the break while Zwick had a strong game, it looked like it would be awhile until Boeckman put a helmet on.
After a Brandon Schnitker touchdown made it 27-0, Boeckman began to warm up. After Miami punted and OSU started its drive with 3:11 left in the third quarter, Boeckman got his final instructions from coach Jim Tressel and trotted out to the field. When he was announced, a strong ovation was heard among the 104,695 fans at the stadium.
"I've always just wanted to go out there," said Boeckman. "When I got my chance, I just wanted to do the best I could to go out there and help this team win.
"They (the coaches) were telling me to stay confident in myself, stay relaxed and focused and do what you know to do," said Boeckman.
Boeckman's first play was a handoff to Maruice Wells for three yards. On second-and-seven, Boeckman went over the middle to find Anthony Gonzalez for a 13-yard pickup and a first down.
Now on the Miami 42, Boeckman looked deep. He caught the site of a scarlet number 7 belonging to All-American Ted Ginn Jr. Boeckman lofted it up as Ginn beat his defender, caught the ball and took a couple of steps into the end zone to make Boeckman's day even more enjoyable with his first collegiate touchdown pass.
"Throwing your first touchdown for Ohio State, that's something else," said Boeckman at the postgame media swarm.
"They were going to run that play with Justin," said Boeckman of the pass to Ginn. "It was a fake to the corner and run the post. Ted was there. He ran a post and went through the safeties. ... I hit him for a nice catch."
After Miami punted the ball away, Boeckman got another series before the end of the quarter. After a handoff to Wells resulted in a loss of yards, Boeckman almost had a carbon copy pass to Ginn again, but Miami's Frank Wiwo broke up the play. Boeckman's third play of the series was a short two-yard pass to Gonzales as the quarter ended and OSU punted on the next play.
"Just to get out there, get the whole feel of the situtation, it kind of relaxed me a bit," said Boeckman. "The first throw to (Gonzales) calmed me down a little bit. I had all the confidence in the world to play."
The Buckeyes started the next series on their 31, Wells ran for a yard before Boeckman called Roy Hall's number twice, the first time for four yards and the other for six to move the chins. Wells rushed the next two plays before Boeckman tried to hook up with Hall again, but the pass was incomplete.
The final drive for Boeckman came with 1:10 left in the game and two handoffs wrapped up the game.
Boeckman's numbers were solid, going 5-for-7 for 57 yards and the touchdown to Ginn. Boeckman did not rush the ball and was not sacked in his afternoon of work.
While the fans were happy with his showing, so was his head coach.
"You know, for your first two passes of your career, your first one was a 10- or 15-yard gain for the first, the next one was a long touchdown. I'm sure he was thrilled with that," said Jim Tressel in the postgame press conference.
Now Boeckman gets ready for week two, a prime-time showdown with national power Texas. A new ingredient is added to the mix as senior Troy Smith returns after a two-game suspension for violation of NCAA rules. Now the debate of who to start -- Zwick or Smith -- heats up again.
Boeckman is not sweating the situtation, saying he will be ready for whatever the coaches have him do.
"I'm just going to go out there and do what the coaches ask," said Boeckman. "I'm going to go out there and play my game, be it with the ones (first string), twos (second string) or threes (third string/scout team). Whatever it is, I'm just going to stay focused, relaxed and be confident in myself."