By Shelley Grieshop
sgrieshop@dailystandard.com
MONTEZUMA -- The back of the Massarini family's station wagon is stacked to the ceiling with photography equipment, packed quickly as Hurricane Katrina approached their Louisiana home more than a week ago.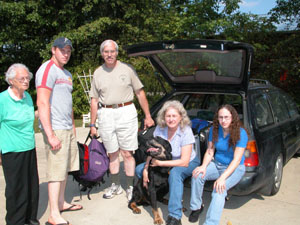 Rick Massarini knew he couldn't leave the items behind if he was to preserve his career as a professional photographer. Saving images from recently photographed weddings was paramount to their own belongings as they fled the area less than 24 hours before the hurricane came ashore.
"We forgot to grab our own wedding pictures," his wife, Barbara, says somberly, as the family gathers in a relative's home in Montezuma to tell their story on Tuesday.
It's been a harrowing journey for the Massarinis of Westwego, their two adult children, and Barbara's mother, 80-year-old Jean Dewey of New Orleans. Divided into three cars, the five adults and three pet Rottweilers initially thought they'd escape Katrina's path, circle around and head back home later that day.
But like thousands of others, they greatly underestimated Mother Nature's power and ended up traveling Southern roadways and sleeping in their cars for three days. The Massarinis' problems started almost immediately as they searched for a place to stay Sunday evening after driving since 3 p.m. Power outages and crowded hotels made lodging choices slim.
"We drove until 4 p.m. Monday," Rick Massarini says, explaining how they tried to stop at a campground but the rain turned their stay into a miserable experience that moved them on less than two hours later.
The plan was to make a loop out of state to the west, then return. But when they tried to drive back into the devastated area, they were quickly turned away.
They drove on, keeping in contact with each other by radio. Cell phones were nearly useless except for text messaging.
"Barbara kept trying to call her aunt (Margaret Goodwin of Montezuma) but most of the towers were down or under water," Rick Massarini says. "Then all of a sudden it clicked and she got her."
Goodwin invited her sister, Jean Dewey, and her family to come to Mercer County. They agreed and left the southern states at noon Aug. 30, arriving in the Grand Lake area by 5 p.m. Aug. 31. But not before blowing a tire on one of the cars.
"The Indiana State Patrol helped us out tremendously. The trooper escorted us to the tire place and even helped us change the tire," Rick Massarini says. "He really extended the hospitality."
With not much more than the clothes on their back, the Massarinis are biding their time in the Grand Lake area, trying to be optimistic about when they might be able to return home for good. They've talked to friends back home who've seen their one-story home. It's suffered minor damage to the landscape and appears to have escaped flooding, they've heard. But they have no idea what the inside looks like or whether looters have taken advantage of their absence.
The family has been glued to the television, hoping and praying to get a glimpse of their small town, their homes, their neighborhoods, but to no avail. And they wait.
Dewey, too, is upbeat about her predicament. The feisty woman brags about surviving the fury of Hurricane Betsy in the '60s, when she spent four days without power. Back home, she rents a first floor apartment on Saint Charles Street in downtown New Orleans in Orleans Parish. (Parishes are the Louisiana equivalent of counties in other states.)
She, too, packed little for the trip.
"I only took medicine and a few clothes," she says, adding she's borrowed most other things from her sister.
The Massarinis' children, Ricky, 23, and Jennifer, 21, are students at the University of New Orleans, or were until it closed indefinitely. Jennifer was three classes shy of graduating in December.
The family realizes they've fared better than many others who stayed to ride out the storm. Some are still missing and many of their friends' homes were destroyed, they say.
"A lot of people won't come back to New Orleans after this," says Rick Massarini, who was born and raised in Weswego.
Dewey, who has lived in New Orleans nearly 50 years, says she's ready to go back to her janitorial job at Holy Name of Jesus Catholic School near Loyola University. Speaking her mind, she blames local officials for the chaos following Katrina.
"That mayor in New York knew how to take charge in a disaster (9/11), but when this happened, our mayor went on TV and bawled like a baby," she says.
All in all, the family is grateful for the hospitality of their relatives and the outpouring of support they've seen across the country.
Dewey sits quietly on the couch, taking in all that's happened to her family recently. Then, with a soothing voice of wisdom, adds:
"It's bad but it could be worse. I'm just leaving everything up to the man upstairs."