By Ryan Hines
rhines@dailystandard.com
With Celina head coach Nikki Etzler still scrambling to find a rotation before the heart of the season comes along, the Bulldogs were able to experiment a little bit on Tuesday night.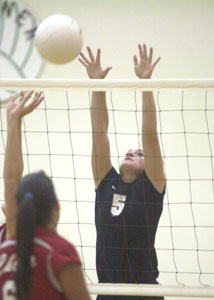 Bellefontaine came to Celina with just one senior on the roster and the inexperience showed as the Bulldogs cruised past the Chieftains, 25-20, 25-13 and 25-16.
The Chieftains (1-3) never were able to put up much of a battle despite some erratic play by Celina (4-2).
"In the first game I think that we played to the level of our competition. With all the passing, serving and serve receive errors that we had, it kept them in the game," pointed out Etzler. "In the second and third games we were able to pick it up and played a little better but we have to make sure that we play to our level and not the level of the competition. That has to be a goal for us because it's a tough road ahead of us.
"We can't be making errors like we have been and expect to win games all year long," continued Etzler. In game one, errors continued to mount for both teams as neither squad could put together consistent play. Bellefontaine committed 12 errors in the first game with Celina right behind totaling nine.
Despite the comedy of errors on both sides, Celina took control of game one when Amy Harner stepped behind the service line and delivered for the Bulldogs. With Celina ahead 17-14, Harner ripped off three straight service points to give the Bulldogs a 21-14 advantage.
Bellefontaine was never able to recover as Celina's Lindsay Scheer had a kill before Betsy Hone wrapped up game one with an ace for a 25-20 win.
In game two, Celina took control in the early going behind the service of Allison Knapke and Diana Schwegman.
Celina led just 3-2 before Knapke served up four straight points for a 7-2 Bulldogs lead.
After a point by Bellefontaine, Schwegman helped put up six straight winning points behind the service line for a 13-3 lead. That was enough of a padding as the Bulldogs went on for the 25-13 win in game two.
Game three started out back-and-forth at a 5-5 tie until Harner once again gave Celina a spark behind the service line. Harner had six straight service, including two aces, to give Celina an 11-5 lead which the Chieftains were never able to recover from.
"We're trying to play girls in different positions to get a feel for where each girl can help us the most," said Etzler. "It was nice to be able to experiment a little bit because we're still waiting for some girls to step up and that will be a huge difference for us. Things are starting to fall into place for us a little bit."
Celina's offense was led by Hone, who picked up 16 kills in the three games while Scheer added seven kills.
Serving was a big plus for the Bulldogs as the Green and White riffled off nine aces, led by three each from Harner and Knapke.
Katie Luebke, who played club volleyball under Etzler two years ago, led Bellefontaine with 10 kills with Kelanie Garman adding six.
Celina is back in action on Thursday at home against Van Wert in a Western Buckeye League encounter.
Phone: (419)586-2371, Fax: (419)586-6271
All content copyright 2005
The Standard Printing Company
P.O. Box 140, Celina, OH 45822