By Gary R. Rasberry
grasberry@dailystandard.com
The back nine at The Fox's Den was reserved for high school golf on Tuesday, and there was plenty of it to go around.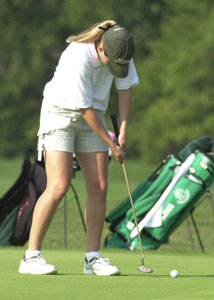 And in the end, everything was looking up for Celina.
The Celina girls had some strong golfing on the day to beat Bellefontaine, 208-235, in a non-conference matchup. Before the ladies wrapped up the day, the boys improved to 4-0 in the Western Buckeye League with a rousing 150-194 win over Kenton.
Girls
Celina started off rough in the beginning against the Chieftains, but a strong finish made for some very solid scores from the Bulldogs' six. "I'm excited. I would like to see us break 200," said Sue Grubaugh, who handles the girls' coaching chores for Celina. "That's been the goal all season. It's been a goal of mine. I had to keep telling the kids that we could do it. I think they're all very capable of shooting under 50 (the low four scores make up the team score) some night, but we've been hanging around that 205-210. That's okay, the scores have definitely improved over last year."
Leading the way for Celina was Kelsey Smith, who matched her season low of 48 on Tuesday.
"I know she's shot 48 earlier this year, but that's the best she shot," said Gurbaugh.
The rest of the team shot within a small range of each other.
Lauren Fuelling came in with a round of 51, Lisa Budde carded a 54 with Emily Stolly shooting 66. Kelsey Moorman had a 60 and Heidi Aukerman wrapped up the group with a 61.
"We're seeing the kids' scores go down," said Grubaugh. "I'm feeling good that they're showing some improvement. That's the nice thing. They're all very consistent and pretty much competitive with each other on their score."
Jen Stahler led the Chieftains with a 53 and Timberly Shaffer added a 54.
Celina hosts Spencerville on Monday.
Boys
The Bulldog boys picked up four sub-40 rounds in beating an overmatched Wildcat team. Whenever a team can throw out solid scores like 41 and 42, it's a good day.
Even boys coach Keith VanDeventer was a little surprised about the round.
"That was a good score for us, coming off a holiday weekend," said VanDeventer. "With Bath coming up on Thursday, I was pleased with the score."
Paul VanDeventer, son of the coach, led the way for Celina with a one-under round of 35. Ryan Moran and Patrick Bailey shot 38s while Scott Luthman was a shot back at 39.
The most amazing round came from Darren Fleck. Fleck had two eagles under his belt coming to 18. Fleck had some trouble along the water, putting two in the drink. Even with a score of 11 on 18, Fleck still shot 41. Dan Reed moved up to varsity and shot a solid 42 to round out the day.
"I was concerned coming into the night how we would respond (after the long break)," said coach VanDeventer. "They did very well."
Tyler Tush led the Wildcats with a 40.
Phone: (419)586-2371, Fax: (419)586-6271
All content copyright 2005
The Standard Printing Company
P.O. Box 140, Celina, OH 45822