By Shelley Grieshop
sgrieshop@dailystandard.com
NEW BREMEN -- Two-year-old Logan proudly stacked fund-raising jugs on the table at Auglaize Industries in New Bremen.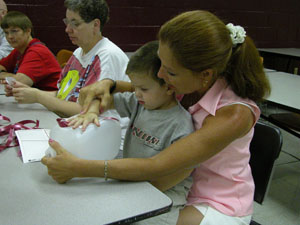 The toddler and student at the ABC Center in New Bremen was doing his part Wednesday to help raise money for the victims of Hurricane Katrina.
"This is our effort to help our friends in the New Orleans area," said Alvin Willis, superintendent of the Auglaize County Board of Mental Retardation and Developmental Disabilities (MR/DD).
Willis announced Wednesday morning that students, adults and staff of Auglaize Industries and the ABC Center, both of New Bremen, were reaching out to help those affected by the recent hurricane down south. Their focus will be the victims with disabilities, just like themselves, he said.
Some of the adults in the workshop at Auglaize Industries will distribute specially labeled jugs to various businesses in the county for public donations. The money will be collected periodically until the final pick-up Sept. 21, Willis explained. "We also are planning some follow-up projects," he said.
Auglaize County MR/DD board member Gwynne Freytag said she felt so helpless while watching news of the hurricane on TV with her daughter, Jessica, 23. Then Jessica, a client at the adult workshop, looked at her mother and said, "Me help?"
"I thought there must be something we all could do," Freytag said.
She kicked the idea around with Willis who came up with the fund-raising project, "something everyone could help with," he said.
Willis contacted the Ohio director of the MR/DD program, who in turn called the Louisiana Citizens with Developmental Disabilities (CDD) organization. The gesture was the first offer of aid the Louisana CDD had received since Katrina stunned the Gulf coast.
"It's a wonderful idea," said Kathy Liebert, assistant secretary for the Louisiana organization.
Three of the largest CDD centers had to be evacuated and closed, as well as 380 small community homes serving nearly 3,000 disabled people in New Orleans, she said. The idea of "flexible" money coming in that didn't have to be earmarked for specific items was welcome news.
"Some of our clients here desperately need money to get gas for generators so they can go back home," she said. "Many are staying at temporary shelters without their caregivers, without handicap-accessible housing. Many are without their wheelchairs and other equipment they had to leave behind."
Willis said an account has been set up locally and the money will be wired directly to the Louisiana agency for disbursement.
"Our clients have benefited here because of the generosity of our community, now it's our turn to work together for someone else," he added.
Phone: (419)586-2371, Fax: (419)586-6271
All content copyright 2005
The Standard Printing Company
P.O. Box 140, Celina, OH 45822