By Ryan Hines
rhines@dailystandard.com
St. Marys and Defiance are two teams that are perennially jockeying for position near or at the top of the Western Buckeye League during the football season.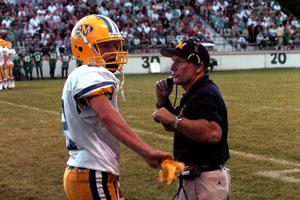 Both teams appear primed to do the same this year and the two teams will meet on Friday at Skip Baughman Stadium in St. Marys as the Roughriders will be enjoying their first home game of the season.
"It's nice to have a home game finally," said St. Marys head coach Doug Frye. "We've been on the road (at Sidney and at Celina) and we were starting to feel displaced. Our first two games came in two environments that were rabid at Celina and Sidney, so it's definitely nice to be home now. This is our only home game in the first five games, so we're going to come out ready to play."
Defiance will bring a hardnosed team as always when they visit Auglaize County on Friday, but Jerry Buti's Bulldogs will have a much different look than in the past, particularly on offense.
Buti teams are well known for their ability to run the ball out of power formations, but Defiance will be in the shotgun formation for most of the offensive snaps this time around. "After we played them last year, they switched to this offense where they run the same type of plays, but just run them out of the shotgun formation," pointed out Frye. "I've been very impressed with how coach Buti has altered his coaching to take advantage of the talent that he has on this team.
"They've incorporated a lot of the Urban Meyer style of offense with shovel passes, option and they will also throw a lot. Last year they started to convert to that after our game against them and they were successful," continued Frye.
Sophomore Adam Wagner (6-2, 160), brother of former Defiance QB Graham Wagner, will call the signals for the Bulldogs and has thrown for 254 yards and four touchdowns through the first two games.
"There are a lot of similarities between Adam and his brother Graham, but Adam is a better athlete," said Frye. "Both were big and I think that Adam benefited from his older brother. Should be an excellent quarterback with his talents."
The Bulldogs have veteran targets back this year for Wagner to throw to in returning starters Clay Greiwe (6-0, 156, senior) and Michael Swary at wide receiver along with tight end Corey Lamb (6-4, 192, junior).
Wagner has a nice complement in the backfield with him as well in speedster Jacquise King (5-11, 176, junior), who was the 200-meter champion in the Western Buckeye League a year ago during track season. King has impressed thus far putting up 212 yards in just 24 carries in two games.
"I think that this is the best team that we've played so far to this point," admitted Frye. "We have to contain their running game and their quarterback. We have to step up on defense. We can't wait until game four or five. We've had a productive week of practice on defense and they understand their roles more and more each week."
Offensively, the Roughriders have looked good thus far racking up 599 yards on the ground led by bruising fullback Bo Frye, who has amassed 251 yards and six scores. Frye suffered a high ankle sprain against Celina, but coach Frye said he will be ready to go on Friday along with standout teammates Koby Frye (122 yards vs. Sidney) and Scott Laman (116 yards vs. Celina), who have each ran for over 100 yards in a game already this year.
According to Frye, the next step in balancing out the St. Marys offense has to deal with the play of quarterback Brett Baker.
"Bret Baker is the next guy in the equation to get more involved in our offense," admitted Frye. "We need to take advantage of our passing game off play action. Brett has two scrimmages and two games under his belt and he is getting more and more comfortable. He'll have a breakout game this year and we're hoping that it comes out on Friday."
A talented trio of linebackers pave the way for the Defiance defense with the likes of Brandon Schaadt (5-11, 176), Jacob Schultz (5-1, 182) and Frank Page (5-9, 156). Defensive end Alex Gutman (6-4, 205) has shown the ability to put pressure on the quarterback from the Bulldogs' blitzing defensive scheme.
"Coach Buti has a reputation for a strong defense since he's been there and we'll have to be ready for there blitzing because they'll come from all over," said Frye. "Buti teams always tackle well. Not the biggest team this year but they will play with passion. They're the most passionate team I've seen this year. They swarm to the ball with speed."