By Shelley Grieshop
sgrieshop@dailystandard.com
Are 3-year-olds too young for flash cards? Should 4-year-olds be able to print their names?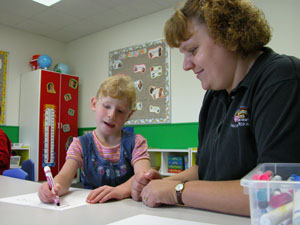 These and other questions can haunt parents who push their preschoolers to become little Einsteins. But although high academic expectations for these little ones may be rampant among parents in metropolitan areas, it simply doesn't appear to be the case locally.
And parents, in general, seem to be ecstatic that area preschool teachers agree on the same philosophy: "Let kids be kids."
"Some things forced on children too early can be detrimental to their development if those skills aren't there," says Maria Rethman, who operates the privately-owned Chapel Hill Preschool in Maria Stein.
Rethman's sentiments were repeated by many other preschool teachers and administrators throughout the local area. Only one requirement made the list for 3- and 4-year-olds attending preschool in Mercer and Auglaize counties -- no diapers. All preschoolers must be potty-trained.
"There aren't any requirements even for our 4-year-olds," says Mary Diller, director and teacher at Fort Recovery Public Preschool.
"Sometimes parents get unnecessarily worried, school at this age is really for the social aspect," Diller says. "At this age, learning is more play-based. Most of them are just learning how to share."
The Fort Recovery preschool class is funded through the public school and follows Ohio Academic Standards as a guideline to prepare children for what they need to know by the end of their preschool years. Diller says the standards are tough for a 3-year-old but appropriate for most children about to enter kindergarten.
Some examples of the state standards for a child "at the end of the preschool years," as the Ohio Department of Education (ODE) states, are: reading their first and last name and common words such as stop; counting to 10 with objects; and using words that describe location such as up or down and over or under.
The ODE attaches the broad phrase "with adult guidance" in each of these standards, allowing parents and teachers to decide just how much guidance should be applied in each case.
Preschools that are not funded with public dollars many times have their own goals for the children they teach who are nearing age 5. Amy Davis, administrator at New Creations Learning Center in St. Marys, is aware of the ODE's list but relies more on her own sources: kindergarten and first-grade teachers.
"I think that's something you have to ask the teachers to find out what they expect the children to know when they walk through the door," she says.
Davis, who operates the preschool in the Church of the Nazarene building, uses a curriculum from "HighReach Learning," a national early childhood publishing company that offers developmentally appropriate curriculums for children 12 months through 5 years old.
Parents can feel the pressure to get ahead of the crowd, and that can lead to frustrated youngsters who aren't ready, the teachers say. Behind every 3-year-old who's memorized the ABC's and can count to 100, there's probably a competitive parent who means well but may be trying too hard for the child's own good, Rethman says.
"A 3-year-old who can recite his alphabet is probably not going to be any better off academically down the road than a child who learns it at 5," Rethman says. "I'm not saying it's wrong or a bad thing, it's just not that important unless you just want to impress grandpa and grandma."
All area preschools contacted by The Daily Standard say they routinely meet with parents to inform them where their children should be academically at each age. Preschool teachers can help identify problem areas, such as speech, and direct parents how to overcome these obstacles.
Lisa Timmerman's son is enrolled in the public preschool in Fort Recovery. Like most mothers, her biggest concern for 3-year-old Jared is developing his social graces.
"Those early skills like sharing and taking turns will help him through the rest of his life," she says.
Another mother, Amy Sudhoff of Coldwater, agrees. Four-year-old Libby is enrolled at Stepping Ahead Learning Center in Coldwater. Mom and Dad are pleased the curriculum is educational, but not so stringent.
"I think kids should be able to learn at their own pace," Sudhoff says. "And I think it's important that we let them have that opportunity."