By Shelley Grieshop
sgrieshop@dailystandard.com
ST. MARYS -- Kevin Harlan feels at home in his new position as president and CEO of Joint Township District Memorial Hospital, St. Marys.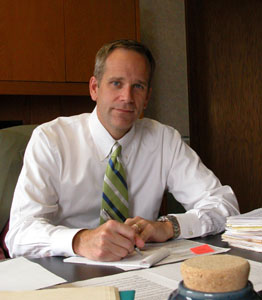 The Dayton native left the same position at a slightly smaller hospital, Alleghany Memorial Hospital in North Carolina when the job in Ohio opened up.
"I promised my wife if the opportunity would arise to move back closer to this area, I'd take it," he says, adding both he and his wife were born and raised in the Dayton area.
Harlan, who refused to give his age, is planning to purchase a home in Celina in the near future. He and his wife, Amy, have two school-age children: Andy, a high school senior, and Becca, a ninth-grader. Both are enrolled at Celina High School.
Harlan began his new position Sept. 1, replacing Jim Chick who retired. Harlan received a master's degree in business from Central Michigan University in 1992, and holds an associate's degree in radiology from Sinclair Community College, Dayton.
"I began my career as an X-ray tech," he says proudly.
He previously worked at St. Elizabeth and Miami Valley hospitals in Dayton, and was a hospital administrator in Georgia and New Hampshire.
Before applying for the position, he did his homework on the St. Marys hospital and liked what he saw.
"It is without a doubt an excellent hospital, well run with strong community ties and medical staff support," he says. "It has a long history of being a low-cost provider with high-quality care. Everything about it was appealing."
He believes the hospital has a growth opportunity in the local communities where its physicians are rooted in each city and village.
"I'm looking into expanding our services to the communities we serve," he says.
Joint Township Hospital has a good market share in Celina and he hopes to expand there as well as other locations in the future, he says.
Officials from Mercer Health of Coldwater last month OK'd the construction of a $20 million medical center to be built on a yet unnamed site in Celina; an expansion of operations at the current hospital in Coldwater also is planned.
With a competitive tone, Harlan explains that Celina, about 10 miles away, is Joint Township Hospital's service area, also.
"There's already competition there," he notes, adding the St. Marys hospital owns and operates the Celina Medical Center at 801 Pro Drive.
Reflecting on his hospital staff, Harlan is impressed with the workforce and its low turnover rate. It's easy to get that "family feel" working in a smaller rural hospital, he says.
He also realizes how important a hospital is to its neighbors.
"A hospital can really make a difference in a community. Oftentimes i'ts one of the largest employers and therefore has a real economic impact. I believe this hospital truly plays a vital role in the communities it serves," he says.