MARIA STEIN -- After two games at the Hangar, it appeared that the St. Henry-Marion Local volleyball rivalry match might not live up to its billing.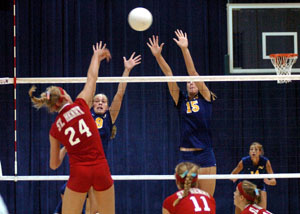 But then came games three and four to prove once again that when these two teams get together, a fast and frenzied match is all but guaranteed.
The Flyers seized momentum after a wild and wooly game three, but the Redskins had enough left in the tank to take game four and emerge with a 25-22, 25-16, 30-32, 27-25 victory.
The win improves St. Henry's season mark to 5-1 and keeps its Midwest Athletic Conference ledger unblemished at 2-0, while Marion falls to 4-2 overall and 1-1 in league play.
"This weekend (at the Best of Ohio tourney) we had to play tough against some big schools with some big hitters, and that helped us immensely tonight," said St. Henry coach Lori Schwieterman. "Those schools didn't have as many huge girls as Marion does, and Marion just has a phenomenal attack and block. Our girls played really smart tonight. We never got down on ourselves and we kept fighting for points." As was expected, the first game was tight throughout, as neither team had a lead larger than three points. The Redskins broke a 21-all tie with a kill from Kayla Lefeld, who then stepped to the service line and smacked a pair of aces. The Flyers got the serve back but Brittany Post ended the first game when she pushed one through an opening in the Flyer defense.
In game two, the Redskins got some help from the Flyers midway through the game to take what would prove to be an insurmountable lead. Down just 15-12, the Flyers were called for three straight net violations that put them in a six-point hole. The hosts later pulled to within four points, but a pair of kills from Lefeld and a stuff block and a kill from Betsy Hoying gave the visitors a 25-16 win.
The Flyers looked to be in trouble in the third game after Lefeld drilled three service aces to give her team a 21-16 lead. Jenna Barhorst responded by sandwiching two kills around one from Maria Moeller, though, and the Flyers were quickly back in business. The Flyers later survived four Redskin game points before Barhorst closed out the game with two straight kills.
Marion looked to capitalize on its newfound momentum at the start of the fourth game as it charged out to a 17-12 advantage. St. Henry was equal to the challenge, though, and quickly tied things up at 20-apiece after four straight service points from Sandy Beyke.
The Flyers later had a game point at 24-23, but Hoying drilled a kill to send the game to extras. Hoying later registered another kill to give St. Henry game point, and the match ended there when a St. Henry free ball found an open corner of the court.
"I told the girls after the game that we have to play to win instead of playing not to lose," said Marion coach Amy Steininger. "We got a little tentative there at the end when we should have been swinging away. Plus, our defense really hurt us tonight. We were out of position a lot and we should have picked up some more balls. We practiced it all week and we had a good idea of where they were going to hit the ball but we were just out of position."
Lefeld and Hoying led all hitters on the night with 21 kills apiece, and Lefeld also contributed eight aces with her lethal jump serve, widely regarded as one of the best in the state. Barhorst's 20 kills led the Flyers and sophomore Abby Niekamp chipped in with 12.
"We've got six new players on the court, and I think tonight really helped our mental toughness," said Schwieterman. "They worked their butts off all summer in conditioning, and I think that really helped us out tonight. Our girls really came up with some big clutch plays."
St. Henry gets back to action on the road Tuesday when it faces another area power in Lehman. Marion will stay at home when it faces Ansonia on Monday.
Phone: (419)586-2371, Fax: (419)586-6271
All content copyright 2005
The Standard Printing Company
P.O. Box 140, Celina, OH 45822