By From staff reports
newsroom@dailystandard.com
The Bulldogs defeated the Cougars, 26-24, 25-15 and 25-21 to up their record to 5-2 on the season.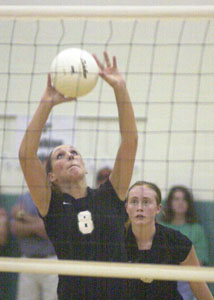 Betsy Hone had 10 kills to pace Celina while also adding eight assists and two blocks to go along with 13 digs.
Amy Harner had 16 assists, Liz Homan had seven kills and Allison Knapke added five kills and 13 digs.
Kelsey Watterman, Dianna Schwegman and Knapke also added a pair of aces each.
Celina is back in action on Thursday hosting Shawnee in another WBL showdown.
VOLLEYBALL
Panthers get first MAC win
Rebekah Roehm had 12 service aces as Parkway goes to 1-1 in the MAC with a three-game sweep of St. John's in Delphos.
The Panthers (4-2) won 25-5, 25-21 and 25-10.
In addition to the dozen aces, Roehm added four solo blocks and nine kills. Laura Art added 10 kills. Tory Henkle set up the attack with 10 assists.
Parkway returns to action on Tuesday at Defiance.
Bulldogs down Roughriders
Rachelle Haggerty had 22 kills as Defiance improved to 3-0 on the season with a three games to none win over St. Marys at Defiance on Thursday.
The Bulldogs won 25-15, 25-13 and 25-10.
Haggerty, who added six aces and 10 digs, was honored at the match after reaching 1,000 career kills last season.
St. Marys faces Minster on Tuesday at Wildcat Gymnasium.
BOYS SOCCER
Bulldogs perfect in WBL
Celina improved to 2-0 in the Western Buckeye League boys soccer standings with a 4-0 shut-out win at Van Wert on Thursday. The Bulldogs improve to 4-1 overall with the win and are winners of three straight matches.
Celina put up three goals in the last 22 minutes of the first half to put the game away. Matt Stetler, Aaron Schmitt and Alex Ball each had goals in the first half. Schmitt put in one more goal in the second half to add the exclamation point.
The Bulldogs, who had 45 shots on goal, played tenacious defense on the Cougars, holding the team to just three shots on goal.
The Celina junior varsity also won with an identical 4-0 score.
Celina returns home on Saturday for an evening game with Greenville. The junior varsity match starts at 5 p.m. with the varsity starting at 7 p.m.
TENNIS
NetDogs win again
Celina went to 5-1 in the WBL with a 4-1 win over Bath at Coldwater Community Park on Thursday.
The NetDogs won all three single matches in straight sets. Kelly Casad beat Amy Miller in first singles 6-3 and 6-1. Erynn Piper beat Kaylyn Sheeter 6-3 and 6-4 in seconds with Kendra Menchhofer winning thirds with a 6-3, 6-4 win over Caitlyn Kohli.
The first doubles team of Jess VanTilburg and Brittini Gunter lost its match to Kelsey Degen and Tracy Alt 6-3, 6-4 and 6-0 before the second doubles team of Erin Brooks and Candace Kluver wrapped the match with a straight set, 6-1, 6-1 win over Komal Patel and Andrea Ansley.
In junior varsity matches, the doubles teams of Jess Wills and Alissa Westgerdes and Rachel Heckler and Olivia Pyles won their pro-set matches.
Celina is at the Lima Invitational on Saturday.
GOLF
Panthers wins battle of unbeatens
A night after handing St. Henry its first MAC loss, Coldwater was a victim itself.
Parkway maintained its unblemished conference duals record with a close 166-167 win at Deerfield to improve to 5-0 and 7-0 in overall duals.
Both teams had a piece of the medal as Trevor Krogman of Parkway and Kurt Riethman of Coldwater each shot 37s.
The match came down to the number two scorers for Parkway. Aaron Evers and Mitch Grieshop had a pair of 43s for the next lowest score for Coldwater. Colby Heiser shot 40 for Parkway. Eric Shrider finished at 44 with Ross Black finishing at 43.
Josh Obringer rounded out the low four for Coldwater with a 44.
Coldwater's junior varsity won its match 185-190.. Nate Bladen of Coldwater and Dylan Jutte of Parkway each shot 41.
Redskins back to winning
St. Henry shook off Wednesday's loss to Coldwater to beat New Knoxville 168-193 at The Elks.
Robby Brunswick was medalist with a 40. Jay Woeste added a 41 with Brian Knapke finishing at 43.
Derick Dicke led New Knoxville with a 47.
Indians fall to Jays
A solid 42 from Aaron Kahlig was not enough as St. John's beat Fort Recovery 180-185 at The Elks.
Scott Hein added a 44 for the Indians with Matt Brunswick finishing at 49.
Brad Wannemacher shared medalist honors with Kahlig with 42.
Phone: (419)586-2371, Fax: (419)586-6271
All content copyright 2005
The Standard Printing Company
P.O. Box 140, Celina, OH 45822