Even with the summer enlistment of extraterrestrial murderers, a messianic Jedi turned diabolical and a reclusive -- and perhaps slightly psychotic -- chocolate maker, Hollywood hasn't come close to luring audiences to the movies this year.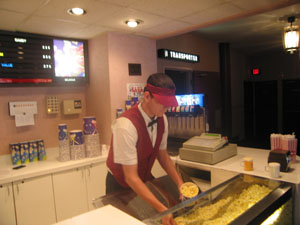 Perhaps they just miss Spider Man's web.
With this year's summer movie session down 10 percent from last year, according to Time magazine, The Daily Standard talked with Philip Chakeres, president of Chakeres Theaters Inc., which owns the five-screen Celina theater, to talk about local sales.
"In Celina, the receipts are down, to be honest. There's a lot of factors. The price of gasoline isn't helping. Spending an extra dollar or two a gallon, people have less money to do things," Chakeres said.
During the last few weeks local citizens have had to pay anywhere from $2.99 to $3.20 a gallon due to refinery shutdowns, making outings -- let alone a trip to see a movie about a 40-year-old virgin -- seem increasingly unnecessary. And what kind of movies are playing nowadays? Many of the releases this year are remakes or sequels, such as "Charlie and the Chocolate Factory," which opened to mixed reviews, "The Dukes of Hazard," "Herbie: Fully Reloaded," "The Bad News Bears," "The Longest Yard" and "Transporter 2."
"I believe that if we have a film everyone wants to see like a 'Titantic' or a different movie like 'My Big Fat Greek Wedding,' the people will be there," Chakeres said. "In my opinion there has been movies with a certain Hollywood formula. People want something new, something innovative, something that's told a different way, something that grasps your attention."
Even though there were some out-of-this–world money makers this summer, the lineup lacked the gusto compared with 2004's summer lineup. According to Box Office Mojo, LLC., this years blockbusters included "Star Wars III: Revenge of the Sith," which had a national opening sale of $108 million and a cumulative gross of $379 million, ranking No. 6 on the all time box office sales, and "War of the Worlds," which had a national opening sale of $77 million and a cumulative gross of $232 million.
However, last year's "Spider-Man 2" opened to $116 million, the highest opening weekend of all time, according to the Motion Picture Association's 2004 MPA Market Statistics study. It's cumulative gross was $373 million. And "Shrek 2," the attendance ogre of last summer, had a national opening sale of $108 million and a cumulative gross of $441 million, ranking No. 3 on the all time box office sales, according to Box Office Mojo, LLC.
Chakeres said he thinks Hollywood needs to stimulate the funny bone more.
"There were pictures like 'The 40-Year–Old Virgin' and 'Wedding Crashers' that did better than I anticipated. I'm of the opinion that Hollywood needs to make more comedies. People love to laugh," he said.
However, he admitted the summer comedy "Deuce Bigalow: European Gigolo" was a laughingstock of a failure.
"I thought it was going to do a lot better that I anticipated," Chakeres said.
The Daily Standard went to Celina Cinema 5 on Thursday to critique the contemporary movie-going experience. Ticket prices for matinee movies before 6 p.m. and Tuesday discount nights are $4.25 for both adult and child, while nightly showings are $6.25 for adult and $4.25 for children -- somewhat affordable compared to city theaters. For the same movie at 7:30 p.m. at Showcase Cinemas Cross Pointe in Centerville, a general admission ticket is $9. The average U.S. ticket price for 2004 was $6.21, according to National Association of Theater Owners.
And what would the movies be without snacks? Candy and soda at the Celina Cinema is $2.25-$2.75, and popcorn is $2.50-$4. After purchasing an adult ticket, a small popcorn and a small soda, this reporter was down $11.
At the 7:30 p.m. Thursday showing of "Transporter 2," there were only four patrons watching the film. While waiting for the movie to begin, Nausheem Labal, a native of Cincinnati visiting Celina friends this week, said that Celina Cinema was nice in both quality environment and ticket pricing, compared to the city theaters she usually frequents.
Even though national sales are down this summer, Labal said she's seen "War of the Worlds," "Batman Begins," "The Fantastic Four," "Sin City" and a few others.
"My family and I still like to go to the movies," she said. "I think this year there were some movies I was anticipating to see. I really like the comic book movies."
She commented further saying movies are better when seen on the big screen.
Celina Cinema ticket seller Eric Hertenstein said sales have been slow during the summer.
"This place is pretty dead during the week," he said. "We don't really have any big movies right now. But during the summer and school year, they (students) love to go on the weekends."
And that makes sense. The 12- to 29-year-old age group represents almost half of annual theatrical admissions, according to the Motion Picture Association's 2004 U.S. Movie Attendance Study.
Chakeres hopes that some forthcoming movies, such as "Harry Potter and The Goblet of Fire" and the "King Kong" remake, will bring the attendance rates up.
Some other critically anticipated releases for this fall include zany film director Tim Burton's "Corpse Bride," which is an animated film starring the voice of Johny Depp, and the Johnny Cash biopic "Walk The Line," starring Joaquin Phoenix.
Even with ever-increasing entertainment options, such as modestly priced DVDs and technologically-awing video games, Chakeres still thinks the movie experience is more than worthwhile.
"Quite honestly, I think it's nice. I go out myself. When I'm in a theater and when I hear laughter, I think it's contagious. I love the cheer roaring through the audience, it magnifies what the movie is trying to do. The experience is that much better to the show," Chakeres said.