MARIA STEIN -- Relying on his sophomore kicker to win a big game probably wasn't Tim Goodwin's first choice, but it was his only choice.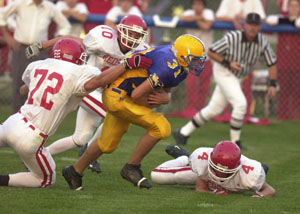 Dan Fortkamp nailed a 36-yard field goal with just over a minute remaining to send the Marion Local Flyers to a 17-16 victory over the St. Henry Redskins at Booster Field.
Marion improved to 2-1 overall and 1-1 in the Midwest Athletic Conference, while St. Henry fell to 1-2 on the year and 0-2 in league play.
After a safety put them down 16-14 in the fourth quarter, the Flyers got three chances to come back, and they hit the jackpot on the final try.
With just under three minutes remaining, Curtis Moeller fielded a Redskin punt at his own 34 and appeared to be hemmed in at the Flyers' 45. The senior danced down the sideline, though, and didn't stop until he was tackled at the Redskin 36-yard line. After an eight-yard run by Luke Homan and a seven-yard completion to Damon Bertke, the Flyers netted just three yards on their next three plays. Facing a fourth-and-seven situation from the 18-yard line, Goodwin called on Fortkamp and the sophomore delivered. Kicking from the right hash mark, Fortkamp's boot split the uprights with a couple yards to spare, sending the Flyer faithful into a frenzy.
It was a little early to celebrate, though, as the Redskins made things interesting.
After starting from their own 32, the Redskins got three completions from signal-caller Doug Griesdorn to bring the ball to the Flyer 28. With time running down, the Redskins used their last timeout with just 11 ticks remaining. The Redskins tried for a first down but Griesdorn's pass was batted down to end the game.
Though Redskin kicker Jon Clune hit a 41-yard field goal last week against St. John's, St. Henry coach Jeff Starkey chose not to try for the winning kick.
"I don't think it was within our range," said Starkey. "It probably would have been about a 47-yard field goal, and I don't want to put a kid in that type of a situation."
Trailing by two and with time ticking away in the fourth quarter, Goodwin was getting a little uneasy on the Flyer sideline.
"It got to the point where I got a little anxious and a little worried," said Goodwin. "I was thinking 'Are we going to get another shot?' but you've got to have faith in your punter and your special teams. That punt return by Curtis was huge, and then we got the nice field goal. Dan's got the perfect temperament to be a kicker. He's kind of happy go lucky, and just said 'Coach, I'll go kick it.'"
The Flyers moved the ball well early in the game, but an interception and a fumble short-circuited two first-quarter forays into Redskin territory. The hosts finally drew first blood in the second quarter when Chris Stucke hit Ryan Stucke on a 19-yard crossing pattern for a score, and Fortkamp's point-after made the score 7-0.
The Redskins tied the game just before halftime, making use of two Flyer penalties to get them down to the six-yard line. After two incompletions, Griesdorn found Ryan Hartke in the end zone, and the junior made a terrific diving catch for the tying score with just seconds left on the clock.
St. Henry carried the momentum over to the second half, as it drove 72 yards in six plays to take the lead. A 19-yard strike to Clune and a personal foul call on the Flyers gave the Redskins the ball at the 15, and Griesdorn once again found Hartke, this time for a 15-yard touchdown.
Just as quickly, the Flyers struck back. Taking over on their own 41 after a nice kickoff return by Mitch Thobe, the Flyers used eight plays to cover the distance, with Moeller sweeping in from three yards out to knot the game at 14-all.
Two possessions later, Redskin punter Mitch Niekamp pinned the Flyers on their own five-yard line, and after a short run and an incompletion, junior Ryan Lefeld sacked Stucke in the end zone for the go-ahead safety.
The Redskins had trouble running the ball all night, as they finished with just 37 yards on the ground on 19 carries. As a result, Griesdorn went to the air a whopping 43 times, completing 19 of them for 202 yards.
Marion sophomore quarterback Chris Stucke also threw the ball well, hitting on 11 of his 19 passes for 177 yards.
"We had so many chances out there to make plays, and it seemed like every ball bounced the other way," said Goodwin. "I'm just proud of our kids for coming back after a tough loss last week (to Coldwater) when we got it handed to us. We had two seniors playing defense and about three or four playing offense tonight, so there are going to be some growing pains out there."
St. Henry returns home Friday to take on New Bremen, while Marion will travel to Parkway.