By Gary R. Rasberry
grasberry@dailystandard.com
Two hundred fifty-six minutes and 14 seconds.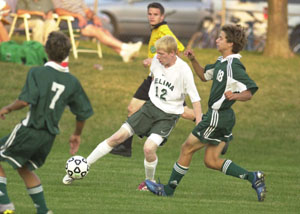 That's the amount of time that the Celina boys soccer team has been spotless.
The Bulldogs picked up their third straight shutout in beating a tough Greenville team, 1-0, on Saturday night at the Soccer Stadium. The win is the fourth straight for Celina, pushing the Bulldogs to 5-1 on the season while the Green Wave drops to 5-2.
The last time the Bulldogs were scored upon came in the Western Buckeye League opener against St. Marys, when Ryan Wolfe scored with 16:14 left in the match.
Since then, it's been shutouts of 2-0 against Kalida and 4-0 against Van Wert entering Saturday's non-conference match. "That's what we talked about at the end of the game," said Celina coach Bruce Strine. "Our defense did a nice job. They (Greenville) had some quick guys up in the front. We shut them down and (keeper Matt) Leugers didn't have to make any kind of spectacular saves."
The Celina defense played hard, giving Greenville just one true shot on the goal and just four total in the game.
The Bulldogs got their best shot at a score early in the game. Chris Post took a deflection off another player's knee and dribbled into the box and put a shot past Green Wave keeper Geoff Holmes in the second minute of the game to put Celina on top.
Celina got 11 more shots on goal in the final 78 minutes and Holmes made six saves in the game.
"As a coach, you always want more goals," said Strine with a chuckle. "I know our defense is tough. I really thought we'd get more than one goal. I felt like we controlled the game down on our side of the field for the most part. Their defense (Greenville's) did a nice job. We didn't get too many looks at the goal, really."
As the game went on, both teams kept the defense up. Greenville got three shots on goal in its lone corner kick opportunity in the final 40 minutes. Celina took three corners in each half.
"We held them down," said Strine. "That was a good thing for us against those guys.
"Greenville was 3-1 coming in and had beat some decent teams this year. They started nine seniors, and I was concerned with that. I knew they had speed and I knew we had a good defense, so I knew we were going to be tested. I'm very pleased with this game."
In the junior varsity match, Celina earned a 2-all tie against Greenville. Kaleb Menchhofer had both goals for Celina, which goes to 2-1-3 on the jayvee season.
Celina returns to action on Tuesday with a trip to Shawnee to face the always tough Indians. The Bulldogs will have leading scorer Brian Dorsten, who was at a family wedding on Saturday, back for the WBL matchup.
"It will be good to have him back for Tuesday," said Strine. "That's what we're looking forward to.
"Shawnee hasn't lost, having played some good teams. That will be a test for us."
Phone: (419)586-2371, Fax: (419)586-6271
All content copyright 2005
The Standard Printing Company
P.O. Box 140, Celina, OH 45822