By Gary R. Rasberry
grasberry@dailystandard.com
Celina swept both the boys and girls races at a four-team meet made up of Western Buckeye League teams at Wright State University-Lake Campus on Tuesday.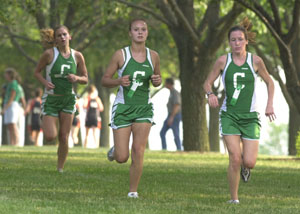 The Running Women managed to win a close battle with Wapakoneta 34 to 40, while Elida was third with 65 and Ottawa-Glandorf fourth with 77.
In the boys race, Celina packed its five scoring runners in the top seven to cruise to the win with 22 points. O-G, thanks to placing runners fourth and eighth through 11th, was second with 42. Wapak (76) and Elida (108) rounded out the field.
"For the girls, I thought O-G, on paper, looked like they would be pretty good," said Celina cross country coach Dan Otten. "Wapak beat us at Greenville (at the Treaty City Invitational) and Elida we saw at the Rotary. Realistically, I thought we would have to run real well to beat Wapak or O-G."
Celina received a season-best time from Melissa Roth, who stayed toward the front of the pack at all the checkpoints and crossed the line for the win in 21:18. Wapak running ace Lindsey Kentner was second, 15 seconds behind Roth while Celina's Jenn Blacketer finished third at 21:41. Wapak's Tiffani Sawmiller and the Titans' Abbie Selhorst finished fourth and fifth before Celina brought two straight across in Heather Petrie (22:38) and Amanda Smith (22:43). The fifth scoring runner for Celina was Beth Secrest, who placed 17th in a time of 26:11.
"Melissa ran one of her best races ever," said Otten. "She took command 2/3 of the way through and took the lead. I thought Amanda Smith ran well.
"Our first four girls are pretty consistent, but they interchange in how they finish."
The Celina boys went with pack mentaility to get the win. The top five stayed up front from the opening gun to the finish. The top five Bulldogs finished within 1:15 of each other.
It looked early on that Shawn Caruso was in control of the lead, but Isaac Niekamp dashed toward the front on the last stretch and won the race in 18:15.
Caruso was third behind Wapak's Brady Prater in a time of 18:24 and Chris Johnson brought home the big pack with a fifth-place effort in 18:44. Luke Bonvillian was sixth in 19:26 with A.J. Barger seventh in 19:31.
The pack came at the right time as the next four runners across were from Ottawa. The next non-Titan was Celina's Eric Ballinger in 12th.
"We don't have a super great runner, but our top three veteran guys are very competitive," said Otten. "We have a lot of depth. We have 8-9 guys who can interchange. Our 4-5-6-7th guys were pretty competitive today."
With the traditional midway point of the regular season approaching, Otten is happy with what his teams are doing.
"I talked to both teams together and I told them we're getting better," said Otten. "I said we're looking like a real cross country team, but if we think we're good already, then we're not going to be any good."
Celina returns to action on Saturday, traveling to John Bryan State Park near Yellow Springs for the Friendship Invitational. Cedarville University runs the meet, which features junior high, high school and college races.
Phone: (419)586-2371, Fax: (419)586-6271
All content copyright 2005
The Standard Printing Company
P.O. Box 140, Celina, OH 45822