By Shelley Grieshop
sgrieshop@dailystandard.com
ST. HENRY -- Leroy Rutschilling remembers the night he arrived a little overdressed to battle a barn fire.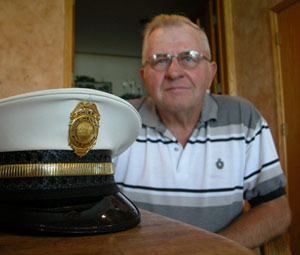 It was decades ago and the former fire chief for the St. Henry Volunteer Fire Department was on his way home from a wedding -- dressed in suit and tie -- when he came upon the blaze.
"I just had to stop," says the 72-year-old. "I ruined a good pair of shoes that night, I know that."
Rutschilling and local residents can take a look back at the history of the fire department as it celebrates its 100th anniversary Sunday. The event will begin with a Mass at St. Henry Catholic Church at 9 a.m. followed by an open house 1-4 p.m. at the firehouse.
Rutschilling headed up the fire department for 25 years, until 1981, and still has what he calls that "firefighter mentality" of doing what you can for your community when the need arises. Many more firefighting procedures exist today than in the early years when he donned only a protective jacket and hat and hopped aboard a truck.
"All I needed to know was how to hold a hose, tie knots, go up ladders, things like that," he says, adding there were about 20 people on the department when he began in 1956.
Today, firefighters are covered head to toe with specially-made materials meant to protect them in just about every scenario. State-of-the-art equipment is available to see hot spots in attics and other hidden areas where the naked eye cannot.
There are 27 firefighters and six junior firefighters on the all-volunteer team, whose coverage spans a 30-plus square-mile area. The current fire chief is Ron Ontrop, with 30 years of service under his belt, 16 as chief.
The only fire siren in the village in the mid '50s was on the firehouse located at that time on Sycamore Street. In order to notify all the firefighters, a telephone chain was used, Rutschilling explains with a chuckle.
"Each of us had about three calls to make," he says, laughing about the antiquated system replaced today with individual pagers.
The St. Henry Volunteer Fire Department was formed following a devastating fire in the village's downtown in late summer 1905. The fire destroyed the former Bruns Hotel, the Smith's workshop and several other nearby buildings and threatened to take the entire town to rubble.
The first fire truck, a 1917 Model T, was purchased in 1924. It could carry no water, had just 200 feet of hose and rolled down the roadway on wooden wheels. The newest truck today was bought in 2002, carries 700 gallons of water and is currently the largest fire truck in Mercer County.
The second truck ever purchased for the department, a 1937 Reo-Speedwagon, is owned today by local resident Art Bernard, whose father Bill was on the department when the vehicle was purchased. It cruises the village's annual parade each year.
In 1990, a tax levy was initated to protect the community and rural farm operations in Granville Township. The levy passed with flying colors and is still used for fire protection today. The fire department currently boasts four fully-loaded fire trucks, two engines, a tanker and a grass truck.
A junior firefighter program implemented in 2002 has brought on new recruits -- many of them sons and daughters of current and former firefighters.
"We sit down with them and their parents and tell the kids they have to keep their grades up, they must be out of the fire department by 10 p.m. and there's no drinking if you're a firefighter," Ontrop says.
Firefighters have to be "on call" at all times. Rutschilling remembers those days well.
"I used to get into the firehouse in about 20 seconds even if I was in bed when I got the call," he says, while admitting he lived just a "hop and a skip" from the station. "My boots would be standing there next to the bed with my pants legs already stuck inside."
One push of the garage door button and out he went, he says. One night in 1966, his own business, the Rutschilling Sawmill, burnt to the ground as he watched helplessly with his fellow firefighters.
In 1974, his brother Wilbert, also a firefighter, was struck by a car during a mutual aid run in Coldwater. The man became disabled after that accident -- a risk firefighters take every time the trucks leave the station, he says.
Rutschilling says he sometimes reminisces about those days when he hears the sirens sound down the street.
"There was just something that felt good about it," he says. "If you live here, you've got to do something, give something back. That's how I've always felt."