ROCKFORD -- Upon reading the stat sheets from Thursday's volleyball match between Marion Local and Parkway, it could have occurred to some that a Texas Hold 'em game had broken out for all the aces that were tallied.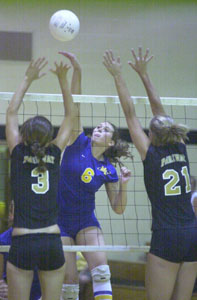 In the end, it was the Flyers that held the best hand, though, as the visitors flushed the hosts in three games by scores of 25-18, 27-25, and 25-12.
The win raises Marion's overall record to 6-2 and improves its Midwest Athletic Conference ledger to 2-1, while Parkway falls to 5-3 on the year and 1-2 in league play.
The Flyers were all business from behind the service line all night, as they whacked a total of 15 aces that accounted for 20-percent of their total points.
"That was our best serving game of the year by far," said Marion coach Amy Steininger. "We wanted to serve aggressively, and we did miss a lot, but we had twice as many aces as we did errors and I'll take that any day. It wasn't just aces, either. (Our service game) forced them into some bad passes and it results in easier defense for us when you keep the opposition off balance off the serve." The Flyers had to fight back early on in game one, as the Panthers took a quick 8-4 advantage. Little by little, the visitors chipped away, and after a kill by Jenny Hartings and then three service points from the senior, the Flyers held a 15-12 lead.
The Panthers battled back and got within one point at 19-18, but Stephanie Brunswick later finished the game off with four straight service points culminating with an ace that hit the net and dropped onto the Panthers' side.
The Flyers' game one deficit seemed like small potatoes after the hole they dug themselves into at the beginning of game two. Keyed by Flyer hitting errors and some of their own service aces, the Panthers charged out to a 17-8 advantage that prompted Steininger to call a timeout.
The coach's advice must have had an impact, as the game began to slant Marion's way from that point on. Brunswick drilled two aces and Hartings followed with three more to pull the visitors back to within one at 19-18. Parkway later had a game point at 25-24, but Brunswick nailed two kills to set up a game point for Marion. On the ensuing point a Panther kill attempt fell short and the Flyers prevailed by a score of 27-25.
Though they made a strong effort early on, the life seemed to be sapped out of the Panthers in the final game. After falling behind 8-5, the Flyers got two aces and five total service points from Maria Moeller to take an 11-8 advantage. The Panthers managed just three more points after that, as the Flyers took control and fittingly ended the match with an ace.
"Marion throws a lot of different serves at you, and it's tough to see around some of their girls because they're so tall," said Parkway coach Todd Henkle. "We matchup well with Marion as far as our hitters, but if we don't serve receive, we aren't going to beat them. We work a lot on serve receive in practice but a person would wonder if we do after seeing us tonight."
Marion returns to action Monday with a match at Russia, while Parkway will take part in the Bath Invitational on Saturday.
Phone: (419)586-2371, Fax: (419)586-6271
All content copyright 2005
The Standard Printing Company
P.O. Box 140, Celina, OH 45822