By Margie Wuebker
mwuebker@dailystandard.com
MINSTER -- Bob Huecker studies the canvas on the easel before adding finishing touches to a colorful landscape.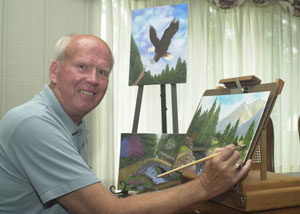 After more than three decades as a professional photographer, he says he has acquired an eye for detail -- an ability that carries over to a new medium.
The subject of painting surfaced several years ago when he retired from his full-time job at Stolle Corp. in Sidney. His children knew the weekends would be busy with photographing weddings and anniversaries as always. But they wondered how he would fill the rest of the time.
"I told them I might take up painting so they bought oil paints and brushes as a retirement gift," he says with a smile. "My kids kind of pushed me in this direction but it took me two years to get started."
His first attempt -- a picturesque mountain scene -- came about after receiving pointers from a sister who does tole painting. Careful brush strokes covered the faint pencil lines he sketched on the canvas as a guide. Huecker, whom his wife affectionately calls "Grandpa Moses," has completed more works with some going to family members and others on sale at a Lake Loramie art gallery.
"Being a photographer certainly helps with painting," he says. "A photographer constantly looks at things from a different perspective."
His interest in photography dates back to high school days when he caught "the bug" from vocational agriculture teacher and amateur photographer Henry Horstman.
"Getting involved in photography in the late 1960s and early 1970s was one of the best decisions I made," Huecker says. "I always did it on the side and managed to stay busy most weekends."
He shot the weddings of his brother and sister without charge in order to put together a portfolio for prospective clients. His big break came when he was hired to take pictures at an Osgood wedding.
"The bride (Kathy Mescher) worked at Celina Mutual," he recalls. "She showed off her album at work and business picked up dramatically. Satisfied customers tend to be the best source of advertising."
Over the years he has snapped photos representing two generations and steadily worked his way from the oldest to the youngest child in a number of families. He worked most frequently in Mercer and Auglaize counties, but also traveled around Ohio and into other states.
He typically arrived 30 minutes before the ceremony and took the majority of the photographs at the altar before guests scattered and children acquired telltale orange soda pop rings. Pictures of the couple cutting their cake, enjoying a first dance or preparing to toss a garter came later at the reception hall. He tried to leave around 7 p.m. so folks could relax and enjoy the event without fears of being caught on film.
"There have been some strange things over the years" he says with a smile. "I remember one couple wanted to release doves at the conclusion of the ceremony. One of the frightened birds dirtied the front of the bridal gown. Another time I photographed a deaf couple. That proved to be interesting; they did not read lips and I never learned sign language. Everything worked out in the end."
Unexpected occurrences include nervous brides and/or grooms fainting and fathers stepping on sweeping trains en route to the altar. A guest suffered a seizure in church; thankfully one of the bridesmaids was a registered nurse who offered support until an ambulance arrived amid the blare of sirens. More than one wedding cake slid from grace in halls not equipped with air conditioning or the icing slowly melted forming a colorful pool on the table.
With an average of 83 weddings per year, Huecker admits he developed a taste for traditional fare like roast beef, fried chicken, mashed potatoes and gravy, dressing, noodles, corn and coleslaw.
However, he often had to forgo family events due to weekend engagements. He missed much of the hoopla when his son and fellow Wildcats took to the gridiron in a state championship football game.
Carol Huecker, who has kept her husband's wedding schedule and compiled stacks of albums over the years, began turning down requests nearly two years ago. The last wedding he shot was that of neighbor Andy Jay in December.
"I never took wedding pictures for my own children," he says. "However, it made me a little nervous watching from the sidelines."
Huecker started with a two-lens Rolleiflex camera that cost $500. His wife quickly points out that was a lot of money in those days. The Bronica, a more advanced model, cost even more. Retirement has signaled the move to a digital camera, paint brushes and volunteer work.
"I like to keep busy," he adds. "I'm not used to sitting home with
nothing to do."
Phone: (419)586-2371, Fax: (419)586-6271
All content copyright 2005
The Standard Printing Company
P.O. Box 140, Celina, OH 45822