By Ryan Hines
rhines@dailystandard.com
LIMA -- It was hard not to doubt Celina in the fourth quarter after watching Lima Shawnee score 21 unanswered points to take an 11-point lead.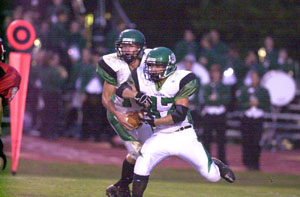 There were no doubters on the Celina sidelines as quarterback Erik Chapin orchestrated two touchdown drives in the final few minutes of the game to complete the Bulldogs comeback, a 29-28 win over the Indians.
"It was 28-17 at one point and they had all the momentum, but we were able to come back," said Celina head coach Mike Fell. "Nothing feels better than a win like this. They earned it."
Celina is now 2-2 overall on the season and 2-1 in the Western Buckeye League while Shawnee slips to 1-3 on the season and 1-2 in league play.
Chapin had scoring runs of one and 58 yards in the fourth quarter, in addition to a three-yard plunge in the first quarter, but the final TD run came with 1:55 left on the clock for Shawnee. Shawnee quarterback Ryan Downard tried to rally the Indians to a game-winning drive but the Indians' drive stalled and they were facing a fourth-and-10 from the Celina 21-yard line.
Indians head coach Dick West called for the kicking team with a 37-yard try staring Shawnee's Grand Brown right in the face. Brown handles the kickoff duties for the Indians and was trying his first kick of the night since female Marisa Cobb kicks PATs for Shawnee.
The snap for the game-winning kick bounced off the helmet of holder Kenny Marsh and was later recovered by Jordan Heuker. Heuker returned the fumble 45 yards to the Shawnee five-yard line, but Chapin just kneeled down once to end the game.
"I didn't think that they could make that kick and we benefited from a bad snap," said Fell.
Chapin's game-winning touchdown run in the fourth quarter brought the Celina fans to their feet as the senior quarterback weaved through the Shawnee defense on the way to the 58-yard score.
"I faked it to our running back on the option and I saw that their (defensive) end came down hard on the back, so I cut off my blocks in front of me and found an opening and I was gone," said an elated Chapin, who continuously made references to the play of his teammates. "I made a couple of mistakes out there, but it feels pretty good to be able to come through with a couple of late big plays."
"In that situation, everyone is always looking pass and sometimes that can put a defense on their heels," explained Fell. "If you can pop one when they're on their heels, then you can get a big play out of it. Number 10 (Chapin) is a good football player and he just had an outstanding game.
"After his first touchdown (in the fourth quarter), I kind of had a feeling that we were going to win the game because I think that the momentum swung back our way," added Fell. "We're playing well right now and it's good to see a win as a reward."
Chapin's improvement is evident in his go-to status with the Bulldogs. Chapin completed nine-of-18 passes for 145 yards, and may have developed a strong relationship with wide receiver Jordan Heuker, who had a game-high five catches for 108 yards.
Celina's offense played well totaling 369 yards, with 224 of those yards coming off the running game. Chapin was the leader in that category as well with 17 carries for 105 yards while teammate Brandon Ley, seeing his first action after missing most of the first three games, had 12 carries for 95 yards with one touchdown to go along with a field goal and two extra-point kicks.
The loss negates a huge night for Shawnee freshman Brandon Stephenson who led all rushers with 20 carries for 168 yards and one touchdown.
"I wish that the Stephenson kid wasn't just a freshman because that means that we're going to have to be trying to tackle that guy for a few more years," said Fell about Stephenson.
Teammate Derek Lingenfelter had just 35 yards on the ground but had two touchdown runs.
Celina is back in action again on Friday with a home date against Kenton while Shawnee will hit the road with a matchup against Defiance.
Phone: (419)586-2371, Fax: (419)586-6271
All content copyright 2005
The Standard Printing Company
P.O. Box 140, Celina, OH 45822