ROCKFORD -- Friday's Midwest Athletic Conference battle between the Marion Local Flyers and the Parkway Panthers was a game of fits and starts.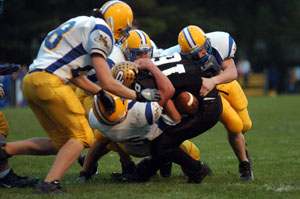 More specifically, the start by the Flyers gave the Panthers fits.
Marion scored 21 points in the first quarter to put Parkway in a hole from which it could never recover. Things evened up a bit after the early outburst, but the Flyers poured it on in the second half and came away with a 38-0 win.
Marion improves to 3-1 on the year and 2-1 in the MAC, while Parkway falls to 1-3 overall and 1-2 in league play.
After turning the ball over on their first possession, the Flyers didn't take long to score on their next three chances. Starting on the Panthers' 34-yard line, it took just two plays for the visitors to dent the scoreboard. After a six-yard run by Curtis Moeller, sophomore quarterback Chris Stucke found Damon Bertke over the middle and the big tight end did the rest as he bulled through a tackle and made his way to paydirt.
Marion did it all on the ground on its next possession. Two runs brought the ball to the Parkway 38, and after an incompletion, Moeller took a handoff and cut to the outside. Aided by a crushing block by Bertke, Moeller scampered down the sideline untouched for the visitors' second score.
The Flyers then got a little help from their defense, as Chris Wenning intercepted a pass and returned it to the Panthers' 11-yard line. On the third play, Stucke once again found Bertke, this time on a quick out route that went for a five-yard score.
Things got a little ragged in the second quarter, as the Flyers had a punt blocked, committed four penalties, and threw three interceptions in that period alone.
Marion got things going late in the third quarter, as Dan Fortkamp booted a 36-yard field goal and Luke Homan scored on a five-yard touchdown plunge. Marc Otte capped the scoring with a 48-yard interception return for the final score.
"It was a little too easy early on and you start thinking 'Hey, it's going to be like this all night‰'" said Marion coach Tim Goodwin. "Parkway's got some talent over there, and it didn't help that we kept shooting ourselves in the foot in the second quarter. But anytime you win in this league, you can't let the sloppiness get you down. There's a lot of work that goes into these Friday nights, so you take the win and just try to get better."
The Marion defense was up to the task all night, as it sacked Parkway quarterback David Bell seven times and held the Panthers to just 68 yards of total offense.
"We had some kids that couldn't play in the first quarter because they weren't at school and didn't come to practice, and we have some seniors injured so we're playing a lot of young kids," explained Parkway coach Jason Henline. "It was just a battle every play to get kids lined up right and knowing what they were doing. For two and a half quarters we played well and I was very proud of them, but you can't come out and give them 21 points in the first quarter."
Marion gets back to action on Friday when it hosts Minster in a key Region 24 showdown, while Parkway will take to the road to play winless New Bremen.
Phone: (419)586-2371, Fax: (419)586-6271
All content copyright 2005
The Standard Printing Company
P.O. Box 140, Celina, OH 45822