By From staff reports
newsroom@dailystandard.com
Ryan Moran led a solid day for the Bulldogs with a 37.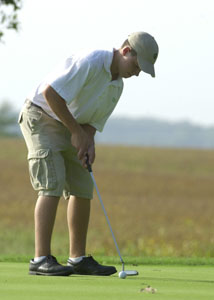 Paul VanDeventer shot a 39 with Patrick Bailey carding a 40 while Darren Fleck and Scott Luthman each added 41s.
Celina hosts Coldwater today and then will participate in the WBL tournament on Friday at Wapakoneta.
Redskins go to 6-2
St. Henry posted a 171-209 win over Fort Recovery at The Elks to go to 6-2 in Midwest Athletic Conference dual meet action. Jay Woeste led the Redskins with a medalist round of 41. Robby Brunswick added a 42 with Brian Knapke carding a 43.
Aaron Kahlig led the Indians with a 49 while Matt Brunswick shot a 51.
Panthers beat Rangers
Parkway also improved to 6-2 in MAC boys golf action with a 167-189 win over New Knoxville at Deerfield.
Trevor Krogman led Parkway with the medalist round of 36. Colby Heiser added a 41 with Ross Black shooting 43.
Dustan Kruse led New Knoxville with a 45. Tony Meyer, Kurt Brown and Caleb Allen each added 48s.
Cavs down Tigers
Coldwater posted a 154-168 win over Versailles.
Aaron Evers was medalist as the top Cavalier shot a 37. Seth Kahle and Kurt Riethman each added 38s while Mitch Grieshop finished with a 41.
Cody Bruns led Versailles with a 39.
TENNIS
NetDogs shut out by Elida
Celina suffered an 0-5 loss to Elida in a WBL dual series on Monday.
Kelly Casad lost at first singles to Jamie Hilborn 1-6 and 0-6. Erynn Piper lost to Rachel Webb 3-6 and 0-6 in second singles while Kendra Menchhofer lost to Joelle Albanese 4-6 and 1-6 in third singles.
In first doubles, Jess VanTilburg and Brittani Gunter lost to Jenna Purdy and Anna Adkins 4-6 and 1-6 while the second doubles team of Alissa Westgerdes and Erin Brooks lost 0-6 and 3-6 to Jaki Dunham and Kayla Stewart.
Celina spilt the four jayvee matches. The team of Candace Kluver and Rachel Heckler won their pro-set, 8-5, while the team of Alina Olding and Abbie Brown won 9-8 with a 7-2 tiebreak.
Celina hosts Sidney at the Coldwater Community Park courts.
GIRLS GOLF
Cavs edge Tigers
Coldwater held off Versailles to win a 224-228 MAC dual match on Monday.
Medalist for the match was Coldwater's Beth Geire, who shot a 52.
Taylor Hutchinson led Versailles with a 52.
VOLLEYBALL
Rangers keep winning
New Knoxville improved to 6-1 with a three-game win over Houston on Monday. The Rangers won with scores of 25-14, 25-21 and 25-14.
Nicole Wright had 11 kills and two caes. Alycia Niemeyer added seven kills and a trio of aces. Haley Kruse had 10 assists.
Indians down Tigers
Fort Recovery improved to 7-3 with a three-game win over Ansonia. The Indians won the first game 25-19 before putting the match away with scores of 25-10 and 25-14 in the final two games.
Tiff Gaerke had 14 kills, six blocks and seven digs for the Indians. Lauren Wenning and Kelly Link added six kills each.
Jennalee Post had 16 assists with Abby Niekamp adding 10.
Cardinals fall to Redskins
New Bremen suffered a four-game loss to Fort Loramie on Monday. The Cardinals won game one 25-20 before losing the final three 19-25, 20-25 and 24-26.
Liz Schnelle led the Cardinals with 12 kills. Christine Schwartz and Stepahnie Winner added seven kills each.
LATE WEEKEND ROUNDUP
CROSS COUNTRY
Minster swept both the boys and girls small school races at the Eaton Invitational held on Saturday at Fort St. Clair Park.
The Minster girls nearly had a perfect race, winning with 19 points, 60 more than runner up Fort Loramie. Fort Recovery was fourth with 140.
The Wildcats had six of the top seven spots in the lineup, with Bernadette Burke winning in a time of 18:43.49. The only non-Minster girl in the group was defending state champ Sarah Schulze of Anna, who came in second at 19:10.59.
Following behind for Minster were Brigitte Sherman (19:23.59), Katie Dahlinghaus (19:35.59), Laruen Fausey (19:46.59), Lei Bornhorst (19:49.59), and Jenna Fausey (19:51.51).
Tina Roessner led Fort Recovery with a 17th-place showing in 20:54.59. Mindy Vogel was 18th.
The Minster boys won with 60 points, with Anna second with 77. Casey Heckman (17:06.49) placed fourth for the Wildcats, with Kregg Olding (17:08.17) fifth.
Fort Recovery was 13th with 320 points. Mitch Fullenkamp led the way with a 24th place showing.
VOLLEYBALL
Tigers 12-0
Versailles tuned up for tonight's big conference match at St. Henry with a three-game win over Newton on Saturday. The Tigers sandwiched two 25-10 games around a 25-7 second game.
Emily Bohman had 12 kills for the Tigers. Erin Keiser added 14 assists with Mallorie Brand added seven kills.
Phone: (419)586-2371, Fax: (419)586-6271
All content copyright 2005
The Standard Printing Company
P.O. Box 140, Celina, OH 45822