By Ryan Hines
rhines@dailystandard.com
Celina head coach Nikki Etzler is pretty confident that her Bulldogs have the talent to make a run at a Western Buckeye League title this year.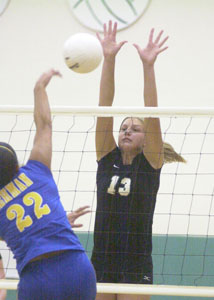 What Etzler isn't so confident about is the mental side of the game of the team after watching her Bulldogs lose three straight games to Sidney Lehman, 25-22, 27-25 and 25-12.
Losing to Lehman isn't anything to be ashamed of since the Cavaliers are now 11-0 on the season and ranked number-one in Division IV, but it's the way that Celina lost that had Etzler disappointed.
"Lehman played mentally tough the whole game and that's why they won tonight," pointed out Etzler. "They challenged us mentally tonight and we didn't take care of business. We didn't make the adjustments that we needed to make. We have the ability physically to have a great season and to challenge for the league title, but we have to take care of the mental side of it too and we have to take care of it right now."
"I thought that we played pretty well tonight, especially in the third game, but I think that we did that because we were able to play well at the end of the first two games," said Lehman head coach Greg Snipes. "Our defense picked up at the end of the first two games and we seemed to pass better in those situations." Celina (7-3) held late leads in the first two games only to see Lehman pull it out in the clutch before getting thumped in the third and final game.
In game one, Celina held a 10-6 advantage after three straight Lehman errors and the four-point lead increased to six points at 13-7 prompting Lehman to call a timeout.
Lehman slowly began to make a run and trailed 21-18 before the Cavaliers made their move.
Back-to-back kills by all-Ohioan Jessica Butt forced Celina to call a timeout with just a one-point lead and then Lehman's Lauren Gleason tied the game at 21-all with a kill. The Lehman run continued off the serving of Sargent and continued until Celina's Betsy Hone ended it with a kill with the Cavaliers out in front 23-22.
Gleason then blocked Hone to force game point and Hone hit one wide as Lehman walked away with the 25-22 first-game win.
It started out to be another battle in game two, but the play of Butt and fellow all-Ohioan Roshelle Watercutter put Lehman up 20-14.
Celina had a run in it, though, as Lindsay Scheer stepped behind the service line and reeled off seven straight points, aided by two kills and a block from Liz Homan, to put the Bulldogs on top 21-20.
The six-point rally by the Bulldogs was short lived as Lehman regained control holding a one-point lead the rest of the way until Butt ended the match with a monster kill.
The disappointment Celina felt from letting the first two games get away showed up in the third game performance. A lethargic Bulldogs squad hit the court for the third game and Lehman immediately took advantage before rolling to a 13-point win to clinch the match in three games.
"We're up in game one and we just don't finish and then in game two we battle back from being behind and we had the momentum and didn't finish. We need to learn to finish because we didn't do it against St. Henry, Marion Local or tonight against Lehman (Celina's three losses)," said Etzler. "We lose the first two games and got frazzled and then failed to compete in the third game."
"I think that we have a tough schedule all the way through and playing teams like Celina in the nonconference schedule is a big game and it can only make both teams better," said Snipes. "Celina beat us in three games last year and we knew that we had to step up tonight to beat them."
Butt led the way for Lehman with a game-high 15 kills while Watercutter added 13 kills and Gleason added nine kills. Hone led Celina with 13 kills while Homan added eight kills.
Phone: (419)586-2371, Fax: (419)586-6271
All content copyright 2005
The Standard Printing Company
P.O. Box 140, Celina, OH 45822