By Gary R. Rasberry
grasberry@dailystandard.com
At the actual midway point of the season, the Western Buckeye League brings up a battle for sole possession of first place in the league on Friday.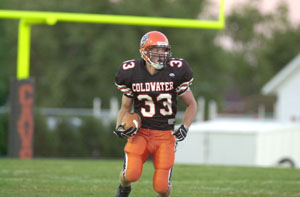 St. Marys travels up to Ottawa to play the Ottawa-Glandorf Titans on Friday in a matchup of two state-ranked teams, adding a little more spice to the WBL showdown.
The Titans finished last year at 5-5 with a young team, but coach Ken Schriner has had a solid group of skill players returning this season.
"On paper, we don't have a lot of returning starters from last season," said Schriner. "We do have a lot of guys with Friday night experience."
"This is, by far, is the most veteran team in the league," said St. Marys coach Doug Frye. "Most of the skill players are three-year starters. They took some lumps their sophomore season and played very competitive last year and are senior dominated this year." Depth has played a big part of the success for the Titans as three backs have rushed for at least 250 yards or better on the season. Leading the way is Chad Ellerbrock, who has rushed for 332 yards and five touchdowns. Matt Quinn has carried the ball just 39 times, but has 283 yards and four scores and Justin Conn has 249 yards and four scores.
Quarterback Jay Laubenthal has been solid, completing over 50 percent (37-of-73) of his passes for 601 yards, while throwing just three interceptions to seven touchdowns.
"You could say they're a more-balanced team than us because they throw the ball extremely well," said Frye. "The thing that really jumps out first of all is the ability of their skill people. They're also very big in the trenches."
Matt Fought and Mitch Croy are the two targets that Laubenthal looks for at the wide receiver position. Both have 11 receptions this season with Fought totaling 188 yards and three scores with Croy, who also kicks for the Titans, tallying 128 yards.
The Titans passing game will bring a big challenge to the Roughrider secondary but corners Eddie Minnich and Mitch Dunlap have shined thus far this season, combining for five interceptions.
"They really have gotten better as the year went along," said Frye. "This is our biggest challenge in that regard. They have been kids that really have stepped up their play to a new level.
"Mark Riesen, our safety in the middle, had to replace Corey Vossler after playing outside linebacker last season. He and Tim Rammel are the only ones with any experience back there. They really have improved each week and have to continue to get better."
St. Marys will have to take care of the ball against a feisty Titan defense as O-G has a turnover ratio of +8 on the season (15 takeaways, seven giveaways). St. Marys has turned it over six times this season and is +1 through four games.
"I think all coaches are pretty much the same: The first thing (they) look at is the win-loss. ... Second stat is is the plus-minus turnover ratio," said Frye. "Last year in the WBL, the top two were Shawnee and St. Marys (WBL co-champs in 2004). The turnover battle is very important."
The defense for the Roughriders came up big last week in stopping Wapakoneta to make up for a subpar offensive night. Frye thinks that the play last week of the defense will help, not just this week, but for the following five weeks.
"That's a sign of a football team that's getting better," said Frye. "When one area struggles a bit, another area picks it up. Our defense really picked it up last week."
Phone: (419)586-2371, Fax: (419)586-6271
All content copyright 2005
The Standard Printing Company
P.O. Box 140, Celina, OH 45822