By Ryan Hines
rhines@dailystandard.com
COLDWATER -- The St. Henry volleyball team went on the road at Coldwater and lost the first game, but won the next three games to stay unbeaten in Midwest Athletic Conference play.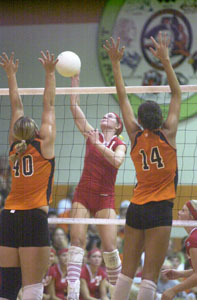 Coldwater won the first game 25-23, but a strong service game helped St. Henry win the next trio of games, 25-22, 25-16 and 25-10 at the Palace on Thursday night.
"They (Coldwater) came out and passed the ball well, hit the ball well and played great defense at the net," pointed out St. Henry head coach Lori Schwie-terman. "They did everything right and we were making errors too, but once we were able to correct some of those errors, we were able to play better. Once we cleaned up our play, we made them make some tougher plays and we took advantage."
"We came out and got the momentum early on and tried to hold on to it, but I think that their service game made us make our own errors and gave them momentum," said Coldwater head coach Mandy Diller. "St. Henry is a very good team and you have to be able to serve receive against them to set up an offense to beat them."
St. Henry's strong service game keyed the Redskins to the victory, and no serve was bigger than that of senior Kayla Lefeld. Lefeld is widely regarded as having one of the best serves in the state, and she put that devastating serve on display against the rival Cavaliers. Lefeld had 15 aces and turned the momentum in St. Henry's favor for wins in some key situations.
After watching Coldwater win game one behind strong play at the net, Lefeld broke a 13-13 tie in game two with seven straight service points (four aces) to give the Redskins a 19-13 advantage.
The Cavaliers were able to surge back in the game behind more strong play at the net by Coldwater's Karla Niekamp, Lindsey Bruns and Renee Koesters. Coldwater's Brittany Klenke had four straight service points late to get the Cavaliers to within two points at 24-22, but a Lefeld kill gave game two to St. Henry.
The Redskins cruised to a nine-point win in game three and Lefeld helped put the Cavaliers away in the fourth game with a great boost behind the service line once again.
After a Cavalier error to start game four, Lefeld won the next eight consecutive points, six coming on aces.
"Kayla made a huge difference in two games for us tonight, especially the fourth game where they (Coldwater) used two timeout to try and stop her service streak and it didn't work," said Schwieterman. "She gave us some great momentum with serves that teams can't do anything about. When she's on, a lot of times it very difficult to defend, like it was tonight."
"Once she gets it going, it's hard for any defense to stop it," said Diller. "The momentum that they got off of her serve was too much for us to overcome."
The 9-0 start was more than enough to register the win in game four, which pushes St. Henry to ??-?? on the season and a perfect ?-0 in the MAC. Coldwater slips to ??-?? on the season and ?-? in league play.
Schwieterman was obviously happy with the play of Lefeld, but the Redskins' coach was quick to celebrate the efforts of many other players.
"Kayla did a great job tonight, but we also got some strong performances from Betsy Hoying and Sandy Beyke in the middle and they showed some of the things that they can do," said Schwieterman. "Brittany Post and Erica Wilker also made some key plays in clutch situations for us as well, so it was another team effort. If you don't have a team effort you aren't going to win games in a league like the MAC. That's the key."
St. Henry and Coldwater are back in action on Saturday competing in the New Knoxville Invitational.
Phone: (419)586-2371, Fax: (419)586-6271
All content copyright 2005
The Standard Printing Company
P.O. Box 140, Celina, OH 45822