COLDWATER -- All year long the Coldwater Cavaliers have hung their hats on big plays and special teams domination.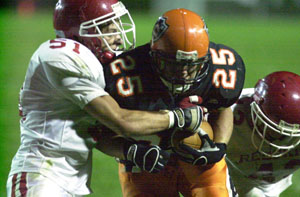 On Friday night, they proved they can grind out a win.
Coldwater responded to a big third quarter drive by St. Henry by reeling off two straight touchdowns, and went on to win 31-7 in a game that was closer than the final score indicated.
The Cavaliers remain unbeaten with a 5-0 mark and stay atop the Midwest Athletic Conference at 3-0, while the Redskins fell to 2-3 on the year and 1-3 in league play.
Down 10-0 midway through the third quarter, the Redskins made things interesting on their first possession of the second half. With some tough running by Andy Puthoff and a timely pass by Doug Griesdorn, the visitors marched 60 yards but faced a third-and-five situation from the Cavaliers' 14-yard line. Griesdorn dropped back and found Zach Thobe in the end zone, where the junior was hit as the ball came to him but grabbed the resulting pop-up while down in the end zone for a score.
The Cavaliers had yet to be challenged in the second half this year, but they responded like a team that was used to being in the hot seat.
Starting at their own 29-yard line, the hosts traversed the remaining 71 yards in 12 plays to widen their lead. Quarterback Steve Borger had completed just three-of-10 passes before the drive, but the senior caught fire and hit on four of his five throws for 51 yards before Ross Homan plunged in from one yard out to make the score 17-7.
After holding the Redskins to three-and-out on their next possession, the Cavaliers struck again. Working with a short field, the hosts mainly stuck to the ground on seven plays with Homan carrying the bulk of the load before scoring on a two-yard run.
"St. Henry really played well," said Coldwater coach John Reed. "They had a great game plan and they are to be congratulated on how they played. The big key was when we answered back to their score. When we were able to answer, that was a big statement to us."
After a scoreless first quarter, Coldwater drew first blood early in the second when Trevor Stromblad booted a 24-yard field goal. After holding the Redskins, the Cavaliers struck again on their next possession. Homan carried five times on the drive, but the big play was a pass he caught in the flat and carried for a 44-yard gain. The junior later scored the first of his three touchdowns when he bulled in from two yards out.
"(Coldwater is) a really good football team," said St. Henry coach Jeff Starkey. "We're young and still trying to get some things going in the right direction. We did some things right tonight and that's encouraging, but we just need to get better."
Homan gained 108 rushing yards on 20 carries, while Borger hit five different receivers in completing nine of his 17 passes for 150 yards.
Coldwater didn't get any big plays from its special teams and had to rely on long drives to score, but Reed thinks that could be a help as the season progresses.
"We're developing that personality and we've done that two weeks in a row now," said Reed. "I think we're getting better from a physical standpoint, and if we're going to go where we want to go, that's what we're going to have to be able to do. You can't live on the edge all the time."
St. Henry will look to even its season mark on Friday when an improved Lima Central Catholic team comes to town, while Coldwater will take to the road to face Parkway.
Phone: (419)586-2371, Fax: (419)586-6271
All content copyright 2005
The Standard Printing Company
P.O. Box 140, Celina, OH 45822