By Ryan Hines
rhines@dailystandard.com
Kenton's Dailyn Campbell played a near flawless first half as the Wildcats jumped out on top 28-3 before settling for a 41-29 win over Celina at Celina Stadium on Friday night in Western Buckeye League action.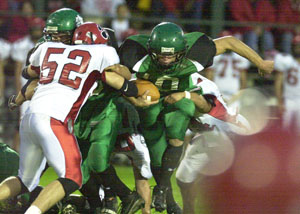 Campbell completed 15-of-21 passes in the first half for 258 yards three touchdowns while also adding 55 yards and two other scores in the first half of play accounting for all of Kenton's 35 first-half points.
"We made some plays early on and our quarterback made some nice throws," said Kenton head coach Mike Mauk. "Our linemen did a good job giving our quarterback time to throw and our receivers did a good job of pulling down the ball. In the second half, Celina played their guts out and it was just a good high school football game.
"It was the most consistent half that Dailyn has had here and it gave us a huge boost in the first half," continued Mauk. "He did a lot of things well, throwing and running the ball. He moved the ball around to different receivers and kept the defense off balance."
"He (Campbell) had a really good first half and threw the ball well," said Celina head coach Mike Fell. "He was able to hit his receivers in stride and they ran with the ball after the catch." The big play was the biggest weapon for Kenton as the Wildcats had six plays of over 20 yards or more, not to mention a kickoff return for a touchdown in the second half that broke Celina's building momentum.
Celina (2-3, 2-2 WBL) crept back into the game at the 6:11 mark of the third quarter when Dane Schwegman intercepted Campbell on an attempted screen pass and returned it 62 yards for a touchdown to pull the Bulldogs to within 12 points at 35-23.
However, Kenton's Jesse Howard negated Celina's momentum by returning the ensuing kickoff 93 yards for a touchdown to up the Wildcats' lead to 41-23.
"We can't turn the ball over like we did and give them a chance to get back in the game like we did," said Mauk. "But we were able to come up with a big play in the special teams and I think that it was a great individual effort on the play by Jesse and it gave us a lot of momentum back.
"The momentum had shifted before that play and that touchdown return put our lead back up to three scores, so it was big for us," added Mauk.
Celina added a fourth-quarter score on a Erik Chapin two-yard run to pull to within 12 points again with 3:18 to go in the game, but it wasn't enough as Kenton held on for the win.
Chapin had his best overall day at quarterback for Celina completing 17-of-31 passes for 217 yards and one interception while adding 56 rushing yards and three rushing scores. Brandon Ley, who had 113 all-purpose yards, added a 22-yard field goal as Celina's other score.
Heuker had the best receiving day for Celina with six grabs for 102 yards.
Josh Klinger was the top target for Campbell as he hauled in six balls for 116 yards and two scores while teammate Corey Manns added six catches for 104 yards and one touchdown.
Celina's defense played well in the second half holding Campbell to just 1-of-8 passing for 25 yards and two interceptions, by Chapin and Schwegman.
"We played hard again in the second half and we went to more of a zone because they were killing us on man-to-man," said Fell. "He's a talented young man that threw for over 400 yards last week and he just throws the ball well. He was offered a full-ride scholarship as a sophomore over the summer after a passing camp, so he's obviously a talented big-time quarterback."
Celina is back in action again on Friday hosting Elida while Kenton (3-2, 3-1 WBL) hosts Defiance.
Phone: (419)586-2371, Fax: (419)586-6271
All content copyright 2005
The Standard Printing Company
P.O. Box 140, Celina, OH 45822