By Gary R. Rasberry
grasberry@dailystandard.com
With weather conditions that would keep even the avid golfer in the clubhouse -- including a two-plus hour delay to the start of the tournament, the Midwest Athletic Conference carried forth and held its championship tournament on Saturday at The Fox's Den.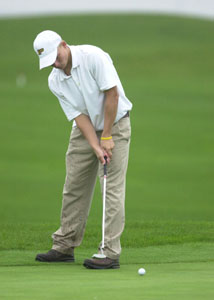 Minster played the wet and chilly course the way the Wildcats have played during the season, straight through.
The Wildcats had four golfers shoot below 80 -- only one other golfer did that -- to capture the tournament title and wrap up a perfect conference season in taking the overall title with a perfect 18 points -- nine points for the 9-0 regular season and nine for winning the tournament.
The Wildcats shot a 311 on the day. St. Henry shot a 334 to take second in the tournament and edged out Coldwater 15-14 for second place in the league. Versailles placed fourth overall follwed by Parkway, Marion, New Bremen, St. John's, New Knoxville and Fort Recovery.
"We feel real good about it," said Minster co-coach Aaron Homan. "Our goal was to win the MAC championship. Then they went out and pereformed like they did, you couldn't ask for anything better, especially with the weather." "It's been like that all year," said the other co-coach Mike Griner, talking about the consistent play. "We've always had four guys. Our two seniors' scores weren't used. They've been solid all year. ... It's going to be a shame when we go into the tournament. We go from a six-man team to a five-man team."
St. Henry coach Charlie Maier was happy with his Redskins, who went 7-2 in the MAC duals.
"It was tough conditions out there," said Maier. "Any kid who shot in the 70s today did a super job. ... They're all darn good teams. I'm really pleased. At times we struggled to get consistent. We had some kids come through today. I hope it carries over to next week (sectional tournament)."
"I was proud of the kids. They did a good job this year," said Coldwater coach Jack Mescher. "It's a lot more fun to play in a compeititve league instead of one team blowing everyone out."
As much as Minster pulled away and captured the team title, the battle for MAC player of the year came down to the wire.
Going in, Parkway's Trevor Krogman led Coldwater sophomore Kurt Riethman 104 1/2 to 99 1/2 -- point are given for placements in dual matches with the medalist getting 23 points.
Riethman shot an 80 to pace Coldwater. Krogram struggled in the rain, at one point having his club slip due to the wet weather, and shot 82.
When the points were finally tablulated, Krogman finished with 155 1/2 points, one point better than Riethman's 154 1/2.
"I didn't play as well as I wanted to," said Krogman. "Coming in with an 82 with all the good golfers here, I didn't think it would hold up.
"Overall, my year has been pretty good. It's been up and down, but for the most part has been pretty consistent, if that makes any sense. There is a lot of great golfers. I was glad I could pull it off."
"Kurt losing by one and being a sophomore, he did a really nice job this year," said Mescher. "He'll be back."
Joining Krogman and Riethman as part of the first team All-MAC were Woeste, New Bremen's Brian Schwartz, Stechschulte and Phlipot, Lee and Adam Borges of Minster, Seth Kahle of Coldwater, Ryan Schlater of Versailles, Robby Brunswick of St. Henry and Brad Wannemacher of St. John's.