By Shelley Grieshop
sgrieshop@dailystandard.com
ST. MARYS -- A soothing fountain and the scent of blooming red roses provide a quiet outside sanctuary for patients and visitors at Joint Township District Memorial Hospital in St. Marys.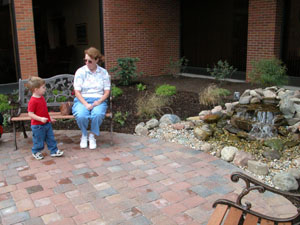 Hospital officials on Monday unveiled the new meditation garden located near the front entrance of the Auglaize County hospital. The serene setting was created in honor of former hospital president and CEO Jim Chick who officially retired Aug. 1.
"Of course I really like the outdoors," Chick said as he scanned the new addition Monday afternoon. "I guess I've always liked things to be tidy and this is very nicely organized."
Work on the new area, complete with a rock garden and fountain, began in mid-August. The idea came from hospital board chairman Bernie Schroer and other board members.
"It was something we thought we needed," Schroer said. "It's a real tribute to Jim who likes landscape and nature." Workers first removed bushes that lined the horseshoe-shaped area between the main entrance and the outpatient entryway. The center, which previously held sod, was replaced with a brick walkway that leads to a small fountain near the building.
Several benches scattered along the walkway invite patients and visitors to ponder for a moment in the serene setting.
Chick was a member of the hospital staff from 1983 to 2005 -- 20 of those years spent as president and CEO. Dayton native Kevin Harlan recently filled the position.
Schroer said Chick always spent a lot of time worrying about the physical appearance of the hospital "inside and out." That's why the garden was appropriately dedicated to him, he added.
Chick, who wasn't aware of the garden until its unveiling Monday, said he tried to make the hospital "the best it could become."
"And I'm sure you all will continue this for years to come," he told staff members who held a reception for him later in the day.
Phone: (419)586-2371, Fax: (419)586-6271
All content copyright 2005
The Standard Printing Company
P.O. Box 140, Celina, OH 45822