By Gary R. Rasberry
grasberry@dailystandard.com
FORT RECOVERY -- Coming off a tough five-game loss to New Knoxville last Thursday, the Fort Recovery Indians looked to get a fresh start for the stretch run of the regular season, starting with Monday's non-leaguer against Lima Bath.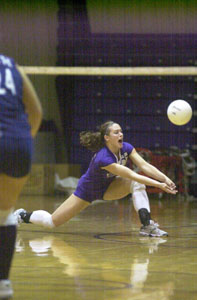 The Indians got off to a good start in a possible late surge by posting a three-game sweep against the Wildkittens at Fort Site Fieldhouse to improve to 8-5 on the season. The Wildkittens fall to 9-5 with the loss.
"Tonight we were solid," said Indians coach Jackie Briscoe. "The key for us tonight, after that hard loss on Thursday, was to instill confidence and to regain trust in everybody."
Briscoe worked on that by mixing her lineup and playing all 13 players on her roster throughout the contest.
The plan worked from the start as the Indians started the first game with a 4-0 lead and did not allow the Wildkittens any closer than three points in the game. Tiff Gaerke had six kills and two stuff blocks and Kelly Link added three kills and an ace to start off with a bang for the Tribe. Game two was a little closer as the teams were tied five times but Fort Recovery broke a 7-all tie by scoring four straight points to make it 11-7. Bath managed just one point before Fort Recovery added five more points to make it 15-8. Rachel Stahl had an ace during the latter run and had two aces in the match. Bath could not get closer than five points before the Indians closed out the match.
Fort Recovery jumped out 4-1 in game three, but the Wildkittens came back to tie the game at 6-all thanks to kills from Jessica Heffner and Rachel Dackin. The teams stayed tied at 7-all and 8-all before Bath made several hitting errors to help the Indians start to pull away again. Fort Recovery pushed the lead to 20-13 before Bath had one last mini-run in it as Hannah Rockhold had two aces to cut it to 20-16 before Jennalee Post served out the match with three Bath hitting errors, a block by Lauren Wenning and an ace to end the match.
"I wanted them to adjust and figure out they were a good team," said Briscoe. "Each teammate made a difference tonight. I thought they did a really good job.
"I thought the setters (Post and Abby Niekamp) did a nice job tonight. They (other teams) always go to (defensively) my best hitter, who is Tiffany. She did a great job and carried the team, and she knows that. Everybody else did their part to keep the ball in play and getting the kills when they needed to."
Gaerke finished with 18 kills and six blocks on the night. Julie Link added five kills with Holly Stein and Wenning adding four and three, respectively. Post had 21 assists with Niekamp adding 10.
Briscoe hopes the win on Monday helps the team in their last nine matches of the season, which has them still to face powerhouses St. Henry, Marion Local and Coldwater among others.
"The second half is always our tougher half because you get into the Marions and St. Henrys," said Briscoe. "We're looking to be sharp enough for the second half of the season. We'll see."
The Fort Recovery junior varsity improved to 10-0 on the season with a two-game win over Bath with scores of 25-22 and 25-19.
The Indians host St. John's in MAC action on Thursday at Fort Site Fieldhouse.
Phone: (419)586-2371, Fax: (419)586-6271
All content copyright 2005
The Standard Printing Company
P.O. Box 140, Celina, OH 45822