By Gary R. Rasberry
grasberry@dailystandard.com
ST. MARYS -- St. Marys boys soccer coach Dave Ring felt a lot of pride about his team after Tuesday's Western Buckeye League match with Shawnee at the West Elementary.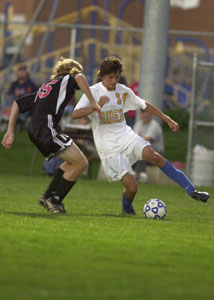 The Roughriders had plenty of chances to score in the match, especially in the final 10 minutes of the game, but St. Marys was unable to score as Shawnee won the game 2-0.
Shawnee is now 3-2 in the WBL and 6-5 overall while St. Marys falls to 1-7-3 on the season with the loss and 1-4-1 in the WBL.
After having just one shot on goal in the first half, St. Marys peppered Shawnee keeper Chris Hefner in the second half with 10 shots, four of which came in the last part of the half when St. Marys got four corner kicks within a short span.
Ring, trying anything to get a goal, even sent keeper Matt Hiskey in to try headers at the goal. Each time, Hefner, only a freshman, made the save with either a catch, a tapout over the goal, or an out kick resulting in a goal kick going the other way. "Just unlucky," said Ring. "We played to our potential. Shawnee is a better team than we are, but we had a great effort. Skill-wise, I was impressed with Shawnee, but I'm proud of how our kids battled. We were just unlucky.
"I was trying everything. I wanted to beat that team. We took a big chance bringing (Hiskey) down there, but I knew my team was up for the challenge. We were already losing, so an extra goal wasn't going to make a difference that late in the game."
Hiskey, save for the first goal, was solid through the night as Shawnee attempted 16 shots in the game.
The first made goal came with 26:33 left in the first half when Joe Flarida scored on a breakaway and put the shot past Hiskey.
The second goal came on a penalty kick with 31:52 left in the match after St. Marys was called for a foul in the box. Greg Shak stepped up and took the kick, putting it to the right of Hiskey for the second goal of the night.
The rest of the time, Hiskey clamped down, getting 10 saves and challenging every shot that came through.
"He's the best goalie in the league, there's no doubt about that," said Ring. "He keeps us in the game. We just can't get him enough offense.
"I'm proud of how the kids are playing. We're struggling offensively. I don't have a true goal scorer on the team. We're working on it," added Ring.
St. Marys travels to Fort Jennings on Saturday for a non-league match. The varsity is slated to play first at 3 p.m. with the junior varsity to follow.
Phone: (419)586-2371, Fax: (419)586-6271
All content copyright 2005
The Standard Printing Company
P.O. Box 140, Celina, OH 45822