By From staff reports
newsroom@dailystandard.com
The T-Birds took the last three games with scores of 25-19, 25-21 and 25-14, sending the Roughriders to 2-11 on the season.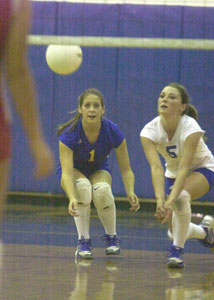 Lauren Schall led the Roughriders in kills with nine and added 12 digs. Liz Barton had 15 digs while Jill Anderson finished with 20 assists.
St. Marys returns to action on Thursday with a WBL match at Van Wert.
Celina girls win on road
Celina improved to 8-1-1 in girls soccer with a 3-0 win over Bath on Tuesday. The game, postponed from Monday due to wet field conditions at Celina, was moved up to Bath on Tuesday. The Bulldogs go to 3-1 in the WBL. Heidi Schollmeier had two unassisted goals and had an assist on Cayla Hellwarth's goal on the night.
On Saturday, the Bulldogs beat Bellefontaine, 3-0, in a game that had to be moved to St. John's Lutheran Church's soccer field due to the saturation at Celina's normal home facility.
Schollmeier, Hellwarth and Meg Smalley each had unassisted goals for Celina in the match.
Celina travels to Ottawa-Glandorf on Thursday to face the Titans in a key WBL matchup.
BOYS GOLF
Cavs edge Bulldogs
Coldwater edged Celina, 162-165, in non-conference golf action from Monday.
Kurt Riethman paced the Cavaliers with a medalist round of 38. Seth Kahle added a 39 with Josh Obringer coming into the clubhouse with a 42.
Paul VanDeventer led Celina with a 39 as Darren Fleck finished at 40 with Ryan Moran and Patrick Bailey each adding 43s.
Phone: (419)586-2371, Fax: (419)586-6271
All content copyright 2005
The Standard Printing Company
P.O. Box 140, Celina, OH 45822