By William Kincaid
wkincaid@dailystandard.com
COLDWATER -- After 30 years of pounding on heels and soles, Pete Schaefer continues as one of Mercer County's only shoe repairmen.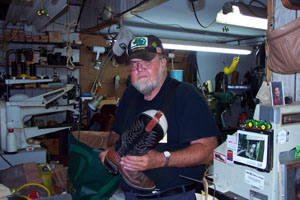 "I keep thinking about quitting, but people won't let me," the 68-year-old shoe repairman said. "I might just quit tomorrow, or I might go on forever."
Schaefer began his business in one of his garages on his property, 3630 state Route 118 Coldwater, in 1975 after a career in long-distance trucking. During a surgery where doctors removed a tumor from his brain, Schaefer lost vision in one of his eyes. Therefore, he had to find a new profession.
Working through Social Security services, Schaefer became interested in shoe repair. He worked as an apprentice under Kenny Bollinger -- an independent shoe repairman from Van Wert -- for six months before opening up his shop. Schaefer said that today Bollinger is "in pretty bad shape" as he suffers from Parkinson disease.
"I learned the basics and how to run the equipment," Schaefer said. He then purchased his own shoe repairing machinery from a Coldwater man who died. Schaefer said the executive of the deceased man's estate, who also was the president at a bank at the time, helped him get the needed machinery.
A majority of his work comes from shoes and boots that need repaired soles and heels. Schaefer fixes them by either hammering or cementing the new parts on the shoe with the help of his machinery. Soles and heels cost anywhere between $10 to $40 plus tax. Many times, he also has to sew damaged leather boots for customers. However, he no longer repairs rubber boots because of the hassle.
"It all depends on the shoe and what they (the customers) want," he said.
Schaefer also does other work. He can repair baseball mitts, zippers and even horse saddles. Throughout the year, he volunteers his time to the Center for Neurological Development in Burkettsville by sewing various projects.
"They have special kinds of shoes," he said. "I have to put velcro on for them."
He also works with his next door neighbor, Urban Buening, sewing rosary and tool bags.
Schaefer said he stays very busy all year, as business has remained constant over the years. Almost too busy.
"I have as much to do as I want to do," he said.
There's only been a few days when he's shut his door, due to health problems with his back and blood. Recently in August, Schaefer closed for a couple of weeks after his wife Dorothy died in an automobile accident west of Celina.
In the last few years, Schaefer has devoted much of his time to the restoration and repair of tractors and tractor engines. Inside one of his other garages sits a fully restored 1951 John Deere B tractor, which took him three years to complete. When he purchased it, Schaefer said it was terribly rusted with a damaged engine and a busted head gasket.
During the Coldwater Community Picnic this year he drove his brightly painted tractor in the parade. He also had a 1926 John Deere engine displayed at the New Idea exhibition at the festival. He recently purchased a 1931 New idea to work on during the winter.
Schaefer said he is very happy to have a good family and neighbors. Regularly, his grandchildren visit him from Tipp City.
And as he continues his shoe repair work, his business mantra still exists today, "If the shoe fits, wear it and repair it."