By Ryan Hines
rhines@dailystandard.com
Former Western Buckeye League doormat, Elida, appears to have turned the corner toward improvement under fourth-year head coach Chris Etzler.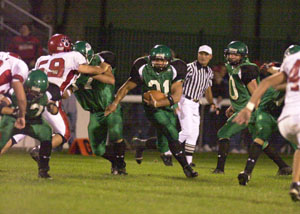 In Etzler's first three years at the LimaLand school, Elida was just 3-27, but the Orange and Black have equaled that three-win total in 2005 in just five weeks of play.
Elida, which is 3-2 overall (2-2 WBL) and looking for a spot in the upper-half of the WBL standings this year, travels to Celina Stadium on Friday night for a WBL clash with Celina.
"For us, it's been a progression type of thing," said Etzler. "The first year I was here we were thin in numbers, in the second year we had very few seniors on the team and we got our first win. Then last year we were just 2-8, but we were competitive in a lot of those losses and now this year we're looking to take the next step into being one of the teams in the top-half of the WBL.
"I'm proud of what the kids have been able to accomplish so far, but we have more goals ahead of us than just winning three games," added Etzler. "With both teams this week being 2-2 in the league, I think that it's a huge game for whichever team wins this game." "Elida is a much-improved team this year from where they have been in the past," said Celina head coach Mike Fell. "This is a big game for us. We've talked about this game quite a bit after losing to them last year. Elida did a lot of celebrating after winning last year and they're coming to our home field and we'll be ready to play. Battle between two even teams. It's a key game for us and them."
Elida can trace some of its early season success in 2005 back to the fact that a veteran team returned this year with 11 starters back, many of whom are three-year starters.
Etzler knows how important it is to have veterans when it comes to games in the WBL.
"It's no secret, you win with seniors in the WBL and that's what the top programs do," said Etzler. "We have a core of guys that have taken their lumps as sophomores and juniors and now as seniors they're excited about what they can accomplish this year. It's nice to see some rewards for these guys because of all the hard work they've been putting in over the last few years."
Several of Elida's veterans are aligned in the offensive backfield with the likes of Mark Leugers, Alex Martin and Derick Edwards.
Leugers and Martin are the halfbacks in the Elida's wing-T attack while Edwards will line up at fullback behind quarterback Justin Blymyer.
Leugers is Elida's biggest threat in the backfield averaging 142.2 yards per game on the ground for 711 total on the season with four touchdowns. Edwards is a potent ball carrier as well with four rushing scores and 247 rushing yards. Leugers and Edwards will be the two workhorses for Elida, but Martin and Josh May will also see time in the backfield as well.
"Mark (Leugers) is leading our area in rushing and runs a great sweep play while Derick (Edwards) is a nice complement that we use more up the middle," said Etzler.
Fell is more than aware of the talent in the Elida backfield after watching Edwards and Martin run for 149 and 100 yards, respectively, against Celina a year ago. Leugers was injured and missed last year's game, a 22-16 win by Elida.
"The Leugers kid could be the best in the league right now," pointed out Fell. "He's one of the fastest in the league and their fullback had a big game against us last year. They are two nice backs and Elida runs an offense a lot like that of St. Marys. It's pretty much the exact same as St. Marys. They run sweep, trap and dive quite a bit."
After a few years near the bottom of the WBL standings, Celina is on the verge of climbing back into the upper-echelon of teams in the league.
Celina is 2-3 overall (2-2 WBL), but the Green and White have shown marked improvements with each passing week.
Erik Chapin is still the focus of the Celina offense as he leads the team with 477 rushing yards and 11 touchdowns on the ground from his quarterback position with 590 passing yards and one more score.
Andy Harner (who is still listed as questionable) and Brandon Ley have each shown flashes of help for Chapin in the running game while Jordan Heuker (19 receptions for 288 yards) has emerged as the go-to receiver in the Bulldogs' lineup.
"Our biggest concern this week will be trying to stop Erik Chapin running the ball and throwing the ball," said Etzler. "He's one of the most athletic kids in the WBL, regardless of which sport. He's got good running backs when they're healthy and they have a veteran offensive line too. Their offense can move the ball."
Last week, Celina's defense was unable to stop Kenton's passing attack in the first half (allowing 35 points) but didn't give up an offensive touchdown in the second half. Although Celina is facing a full-house backfield instead of a spread offense, Fell is hoping that the success in the second half last week will carry over to this week.
The last time that Celina faced an all-out rushing offense similar to that of Elida, came in week two when St. Marys visited Celina Stadium and amassed 372 rushing yards.
"We saw that St. Marys had some success against them just lining up and pounding the ball at Celina and that's what we're going to try and do," said Etzler. "That's been our style of offense all season and we'll try to run the ball effectively again this week."