VERSAILLES -- The Marion Local Flyers came into a hot and rowdy Tiger Gymnasium on Thurs-day night and promptly found out that the Versailles Tigers are for real.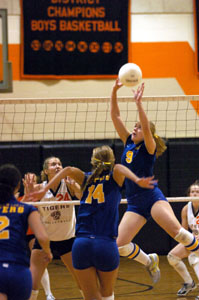 Once they had that figured out, the Flyers stepped up their level of play and went on to beat the Tigers in four games, 20-25, 25-20, 25-18, and 25-10.
The win improves Marion's overall mark to 12-2 and their Midwest Athletic Conference ledger to 4-1. Versailles drops to 14-2 on the year and 4-2 in league play.
Marion is now tied for first in the MAC with New Knoxville and St. Henry.
Game one was full of heavy hitting, tight blocking, and all-out hustle. In the early going neither team could take a lead of more than two points, but the Tigers finally took a modicum of control when they took an 18-13 advantage. The Flyers quickly rallied, though, and pulled back within one at 20-19.
The Tigers then scored when a free ball found the open court, and junior Melissa Heft unleashed her deadly sinking serve.
After quickly getting to game point, Laura Grilliot smacked home the winner to give the Tigers the first game.
Marion struck quickly in game two as it pushed out to a 5-1 lead and later widened it to 19-12. Just as Marion did in the first game, Versailles fought back and drew to within two at 21-19.
After committing a service error, though, the hosts dropped the next three points and Marion's Jenna Barhorst finished out the game with a kill.
The Flyers broke game three open midway through, as senior Jenny Hartings served up five straight service points to increase the visitors' lead from 14-11 to 19-11. The Tigers later got within four at 20-16, but the Flyers went on a late run to take their second game.
Game four was never really close, as the Flyers blasted out to a 6-0 lead and never looked back. The Tigers later whittled the lead down to three points, but Maria Moeller then rattled off seven straight service winners to peg the Flyers to a 10-point lead that would never get smaller.
"We definitely didn't play like we should have tonight and we paid for it," said Versailles coach Jeremy Riley. "We just couldn't pass the ball off the serve and we gave them easy balls and probably 80-percent of the time they got kills off of them because they're so big and so aggressive."
"Aggressive" is a term Marion coach Amy Steininger likes to hear, especially when it comes to her team's service game. The Flyers whacked 14 aces on the night, with seven coming in the final game.
"It's a fine line between serving tough, missing a lot of serves," said Steininger. "There's some give and take, but we feel like the risk/reward ratio for us is a lot higher when we serve tough. We feel that we're on offense when we have the serve and nobody is stopping you, so you may as well serve aggressively. We may miss some serves, but that's the risk you take. The difference in the game tonight was our serving aggressively versus their serve receive."
Versailles returns to action on Saturday when it takes on Arcanum, while Marion will join an elite group of volleyball teams at the Crestview Invitational in Convoy.
Phone: (419)586-2371, Fax: (419)586-6271
All content copyright 2005
The Standard Printing Company
P.O. Box 140, Celina, OH 45822