By Ryan Hines
rhines@dailystandard.com
Celina rolled up over 400 yards of total offense on Friday night against Elida at Celina Stadium, but it wasn't enough to make up for a struggling defense as Elida won the Battle of the Bulldogs, 41-24 in Western Buckeye League action.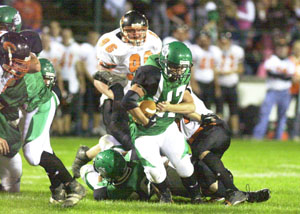 "It all starts with having confidence in yourself and I think that we have that confidence right now," said Elida head coach Chris Etzler, who has the Bulldogs at four wins for the first time since 1995. "We've been down in three out of our four wins this year and I think that it just shows the character that this team has."
"We pretty much got what we deserved," said Celina head coach Mike Fell. "They pretty much ran us down in the second half. It was huge not stopping them right before the half. We killed ourselves at times tonight and you can't do that against a quality football team and expect to win the game. We stopped ourselves. We had over 400 yards of total offense but we had turnovers and penalties that stopped some of our drives."
Elida (4-2, 3-2 WBL) overcame an 18-7 deficit in the second quarter with a touchdown just before the half and a total of 28 unanswered points to swing the momentum in the contest.
Celina head coach Mike Fell pointed to the touchdown Elida scored just before halftime as the one that seemed cost the home team the most. "That was a huge score for them because instead of having an 18-7 lead, we were only up 18-14 going into the second half," said Fell. "They got momentum from that score and never gave it up after that."
Celina (2-4, 2-3 WBL) had an 18-7 lead with 3:39 left on the clock in the second quarter but Elida ran its Wing-T offense to perfection moving the ball down the field at will. Elida had 11 running plays and one big 34-yard pass from Kyle Miller to Mark Leugers before Miller scored from one-yard out on fourth down with no time left on the clock.
The fact that Elida even got a play off with one second left sent the Celina coaching staff into a frenzy just before the half. Mark Leugers had a seven-yard run to bring the ball down to the one-yard mark and Miller quickly spiked the ball with one second left on the clock before the quarterback sneak for a score. Fell was clearly unhappy on the sidelines that the clock didn't run out on the Leugers run.
"The huge momentum swing was that we held them to two field goals in the second quarter and we were able to score just before half to give us some momentum going into the half," pointed out Etzler. "Our kids play with great character and this win was as good a win as we've had in a long time."
The Miller run before half brought Elida back to within four points at 18-14 but Justin Blymyer (25-yard run), Derick Edwards (10-yard run) and Leugers (seven-yard run) added consecutive scores to push the Elida lead to 35-18, with 28 unanswered points.
"We began to get the offense rolling and I think that it all began with the touchdown just before halftime," said Etzler. "Our defense forced some turnovers and played pretty well in the second half."
"We got tired in the second half and I think that you could see that because they play a physical style and they beat us up front," said Fell.
Celina got back on the scoreboard on a three-yard run by Erik Chapin run, his second of the night, and Leugers scored his second touchdown on the night as well with a 19-yard run late in the fourth quarter.
Leugers, who now has 910 yards on the season, had 35 carries for 199 yards while Edwards also eclipsed the 100-yard mark with 24 totes for 106 yards.
"We've run for twice as much yards as we've passed for and we have confidence in our running game," said Etzler. "I think that we kept pounding the ball at them and it began to wear them down in the second half. I think that Mark gets better as the game wears on and that was the case again tonight."
Chapin also went over 100 yards for Celina with 18 carries for 151 yards while also adding 11-of-18 passing for 182 yards and one score. The Chapin scoring pass came on a 29-yard connection with Jordan Heuker, who had four grabs for 94 yards on the night.
Phone: (419)586-2371, Fax: (419)586-6271
All content copyright 2005
The Standard Printing Company
P.O. Box 140, Celina, OH 45822